Some Triumphs, Some Disasters
We're growing stuff, lots of stuff and taking care of what was in the garden originally. This is our first garden with space for experimenting, so we are having a go at a lot of different things.
Having such a large garden does at first seem daunting but this disappears into the background when having just eaten a freshly picked cherry or mange-tout or eating a plate of fried courgettes in a creamy garlicy sauce.
Each one of the fruits and vegetables that we're attempting to grow gets a short mention here and there are some brief pictures too, click on your choice for the cultivation diary entry for Apple, Apricot, Artichoke, Beetroot, Black & Red Currant, Broccoli, Cabbage, Carrot, Cauliflower, Cavalo Nero, Chard, Cherry, Chilli, Courgette, Cut Flowers, Garlic, Gooseberry, Hazelnut, Herbs, Kohl Rabi, Leeks, Lettuce, Melon, Mustard, Nectarine, Olive, Onion, Peas & Beans, Peach, Pear, Pepper, Pineapple Guava, Plum, Potato, Pumpkin, Quince, Raddish, Raspberry, Rhubarb, Rocket, Shallots, Spinach, Squash, Strawberry, Swede, Sweetcorn, Tomato, Vines, Walnut.
This is a single, sadly neglected ancient espalier trained tree. We've been informed by a neighbour that the variety is Clochard - which if it turns out to be right is a major victory as the Reinette Clochard apple is an ancient variety that you will never see in the shops. It has an irregular size with mottled brown/yellow colouring and the ability to bruise at the slightest touch, making it a no-no for commercial sale. We had first spotted it in all the local farmers markets, where its honeyed taste was a revelation. It's origins are right here in the Gatine, so we're pleased about having a source of these ourselves. Sadly the espalier was so old that a significant chunk of it had snapped under the weight of fruit, so we've now trimmed it back and planted a companion fledgling espalier Williams pear next to it. This will be the start of an espalier walk that will lead down between the side of the orchard, the courtyard garden and on into the lower garden and potager.
We bought a young apricot tree and planted it near the garage. There were 2 fruits on the tree but unfortunately both have since fallen off. We will train this tree to be a small standard and hopefully next year will get a bumper crop off it.
Languishing in the garden were three old artichokes and the remains of a previously un-harvested crop. As the weather was so mild Adrian cleared the bed with the aim of replanting any offsets and getting prepared for a bumper harvest of artichokes. Once the planting had been completed the bed was full of approximately ten artichoke plants.
Unfortunately, a short while later we had the coldest night of the year and all bar one plant was killed off. This lonely little plant is struggling to survive and it'll be at least another year before we can harvest anything from it. Verdict, disaster!
We decided to plant a small amount of globe beetroot in one of the orchard beds for use in salads and possibly pickling. There are about 3 or 4 rows currently growing.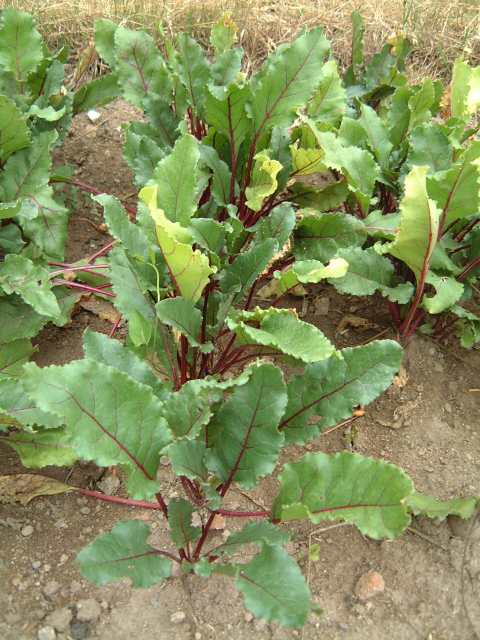 On visiting the local farmers market we came across another type of beetroot which had a long almost parsnip shape. This type of beetroot is sold already cooked - in a wood fire oven. This sounded intriguing and as we have now since discovered our four-a-pain, it seemed the logical vegetable to experiment with. We will be planting the seeds in the next few weeks.
Adrian's parents kindly gave us a number of 1 and 2 year old black currant bushes. These were planted in the orchard. There are also a number of red currant bushes scattered around the orchard and courtyard. The red currant bushes need a little TLC as they are slightly dishevelled but did produce some brightly coloured fruits which the birds had 90% of. We will be more prepared next year after the bushes have been pruned and the black currants should produce some fruit too.
Purple sprouting broccoli seeds have germinated and have now been planted out in the potager. Unfortunately they were attacked by black fly and to save the crop we had to resort to chemicals.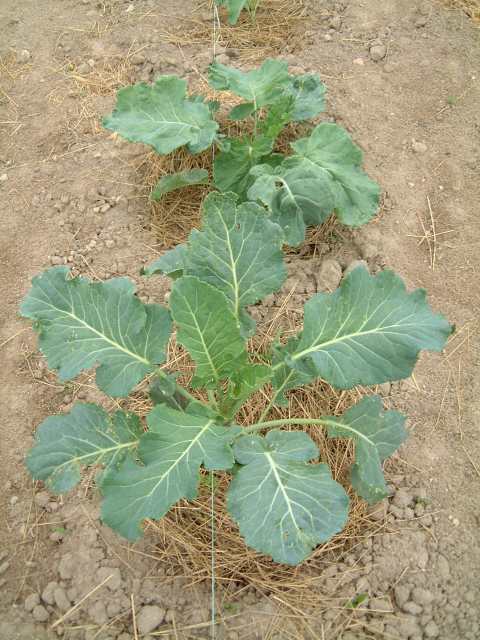 The plants seem to be doing OK now and will be ready for harvesting in the autumn.
I had mixed results with the cabbage seeds. Half germinated, then half of them were eaten by an invisible bug, the remaining plants were transplanted onto the potager and were then attacked by black fly. As with the broccoli we had to resort to chemical means to save the plants.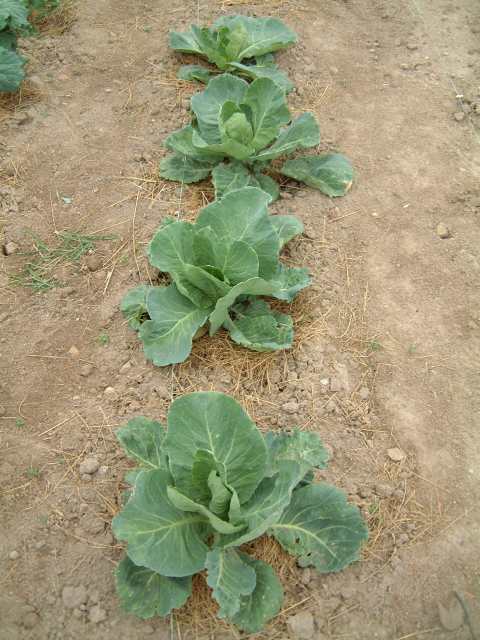 They are now doing OK and will be ready for harvesting in the autumn.
When we first arrived at Bellebouche the bottom of the garden was overgrown. Just before we had it ploughed over by our friendly farmer we removed all the major weeds and came across a row of onions and carrots. We harvested them, but the carrots were quite woody and only really good in a hearty soup. At this stage we had a number of empty beds in the orchard which needed planting to suppress the weed population. A couple of rows of carrots were planted and are currently filling out ready for harvesting in a few months time.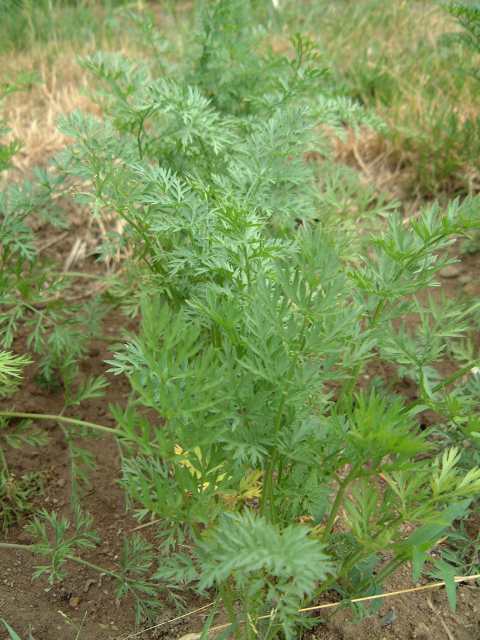 Adrian planted a number of seeds directly in to the potager - we are awaiting germination. Will keep you posted.
This is a type of kale originating from Italy and is cooked like spinach. It has dark purple/black leaves and we have about 9 plants growing in the orchard beds. One of Adrian's favourites for making ribbolita. On our travels around France we've seen quite a number of these used in municipal planting schemes as architectural plants!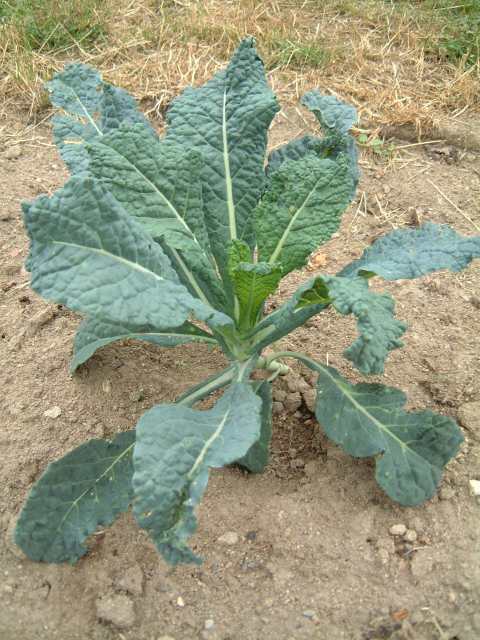 After a slow start - Adrian didn't realise I had planted some seeds and hoed their bed - we have at the moment 3 chard growing in the orchard beds alongside the cavalo nero. I have also planted some more seed and so far 3 seedlings have appeared.
The variety of chard is called Bright Lights and is quite an impressive looking plant. As can be seen above, it has light green leaves with a red vein and red stalk.
There are 3 cherry trees in the garden. Each one is a different variety and all ripen at slightly different times - which is fortunate. The first to ripen is the cherry in the orchard. These cherries are dark, very sweet and succulent. About a week later the large cherry in the courtyard is bursting with red fruit with a slightly different taste to the orchard tree. This tree is overgrown and will need some major pruning in the future to tame it again. Finally the tree alongside the garage ripens a week later. These cherries are very dark and slightly sour tasting and seem to be the favourite.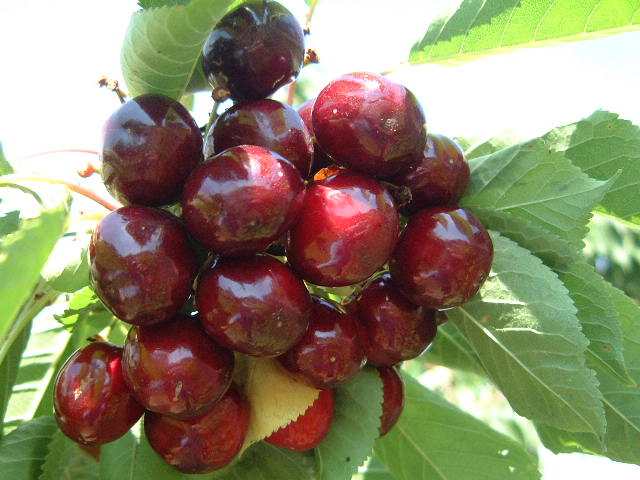 This year there was a bumper harvest, more than we could pick as all the cherry trees are slightly overgrown, making some of the branches unreachable - the birds had quite a few this year. We ate as many as we could with the help from my parents. Adrian made a couple of Clafoutis, a few jars of cherry jam and pickled a few jars in vinegar to have with cold meats. Next year we will be more prepared for the harvest and will try our hands at other recipes.
Adrian had been collecting chilli seeds from all over the place in the last couple of years and we had a wide selection to choose from. He planted a load of different seeds into pots and waited for some results. Unfortunately, using garden soil, the only things that seemed to germinate were weeds. There were a couple of chilli plants that germinated but these died during one very hot day. After buying some potting compost, I planted a couple of pots of 3 or 4 varieties of chilli and have had some results. Jalapeno and Fireglow chilli plants are growing. Habanero hasn't germinated yet !
I planted, with the help from Adrian's mum, a number of courgette seeds working on the premise that only half would germinate. All 11 germinated and are now planted in the potager producing masses of courgettes. Our farmer friend was amazed at the number of courgette plants we had and said we must really love courgettes !!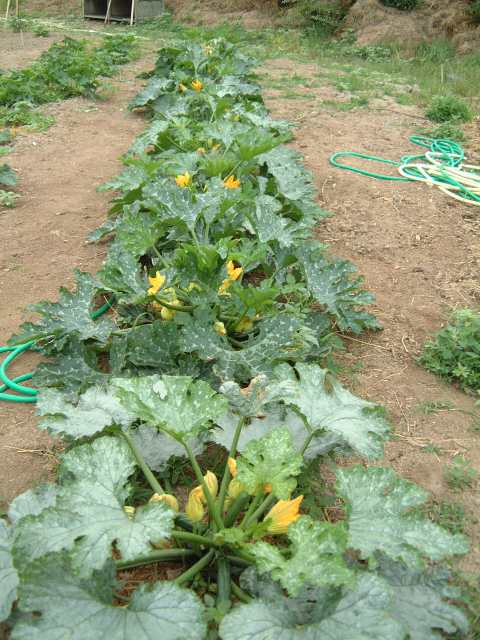 Well, so far we have eaten courgettes in some form or other every day for the past 4 days and we are still not tired of them. There is nothing quite like picking them fresh and cooking them minutes later.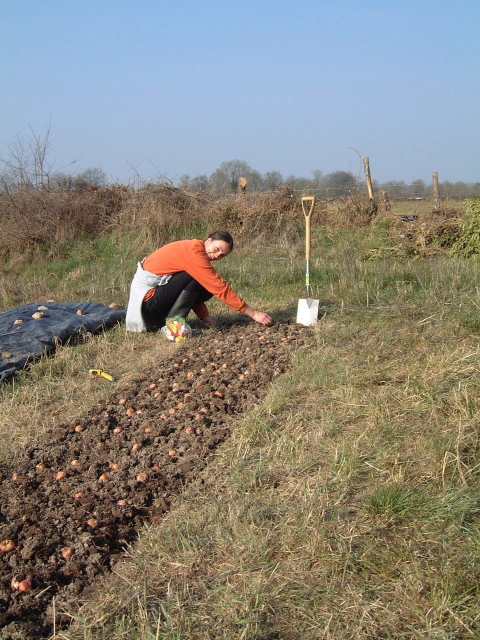 We decided that as we had so much space I would dig a bed for growing cut flowers - i.e. flowers that would be cut and brought into the house for vases. A small bunch of flowers, about 5 stems, from the florist can cost up to 5 euros - the bulbs were a lot cheaper than this and have produced a spectacular display of Freesias, Lilies and Gladioli.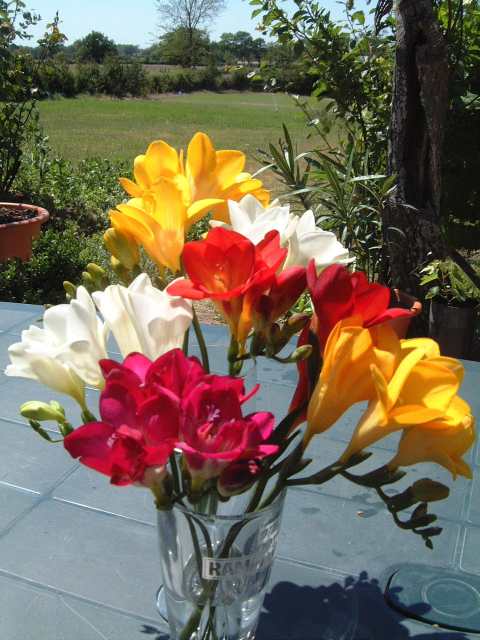 The freesias are sweet smelling and produced a wide range of beautiful colours.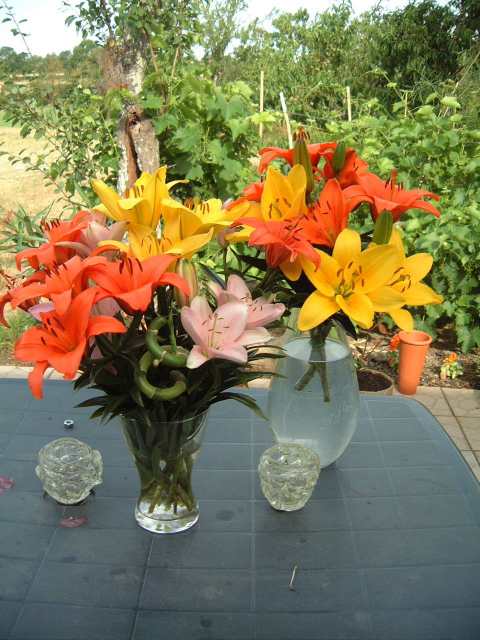 The lilies are at their best right now and are also sweet smelling and beautiful. The gladioli are still to flower but the amount of plants waiting to bloom will keep the vases overflowing for weeks. Due to the rampant success of this bed I will be planting many more freesias and lilies in the future.
We have had some success and some failure with growing garlic. Adrian planted some white and pink garlic in one of the orchard beds. All the white garlic grew but all the pink just rotted and disappeared. We have no idea why this happened as they were both planted side by side. Once the potager was ready, we planted a row of white garlic and about 10% of these have appeared - not sure if any more will appear - we will keep you posted.
I love the tart taste of fresh gooseberries so we bought a gooseberry bush and it now sits in the orchard in the soft fruit bed alongside the blackcurrants, strawberries and raspberry. The bush is almost ready to harvest and I think this year we will have them just stewed with some creme fraiche. Next year the harvest should be a lot bigger (more than 11 fruits) and we may make a good ol' english gooseberry crumble.
Update - there were only 2 left on the bush, the others had mysteriously disappeared. We had one each - we will be prepared next year and cover the bush with netting.
There are 2 trees in the courtyard which had catkins on them when we first arrived at Bellebouche. We didn't think anything of them, especially not as fruiting trees. On further investigation, and finding lots of old hazelnuts on the floor we found that we had one male and one female hazelnut tree. The female, currently fruiting, is overgrown and will need a good prune at the right time, but is full of young hazelnuts. This tree is in the centre of the courtyard. The male tree is on the boundary and doesn't seem to need anything doing to it. It will be interesting to find out what sort of yield we get from these trees and finding recipes for the nuts.
While digging the beds in the orchard I came across a thyme plant growing at the edge of the lawn. This was relocated into one of the beds for now and will be relocated again into an English style herb garden in the future - as will all the other herbs we are currently growing. We have decided to see if we can grow our own herbs from seeds. Basil is slowly coming up in the salad bed next to the tall dill plants. Chamomile seeds are slowly germinating at present and will be potted on before we make a feature of them. Coriander, cumin and fennel seeds have all been planted down on the potager - we are waiting for them to germinate. I have planted 2 varieties of lavender seeds, these are notorious for taking ages to germinate. I have managed to pot on 2 seedlings of one type and the other has just started to peep through the soil. The parsley has taken a while to germinate but is now doing well - the flat leaf variety.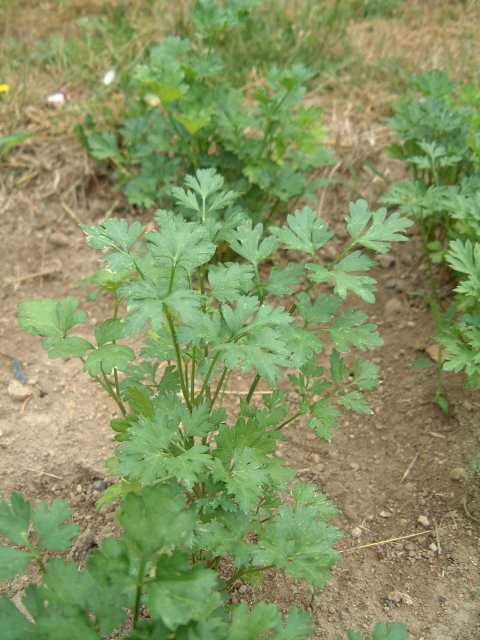 I did plant the curly leaf variety as well but got a little vigorous with the hoe one day and hoed their seed bed. Adrian planted some sage seeds and we now have a group of plants along the patio and another group waiting to be planted down on the potager around the water butt. Finally, on their last trip over, my mum brought me a marjoram plant which she had been looking after for me. This sits in a pot on the patio for now. The only disaster has been the chives - they just wont germinate - I'm not sure why, whether it is too hot or I've planted them too deep. I will try another load of seed - they are supposed to be really easy to grow - well if all else fails - we have family with plants in their gardens!
This is a little known vegetable and is cooked like a swede. We have planted about 20 plants in one of the beds in the orchard.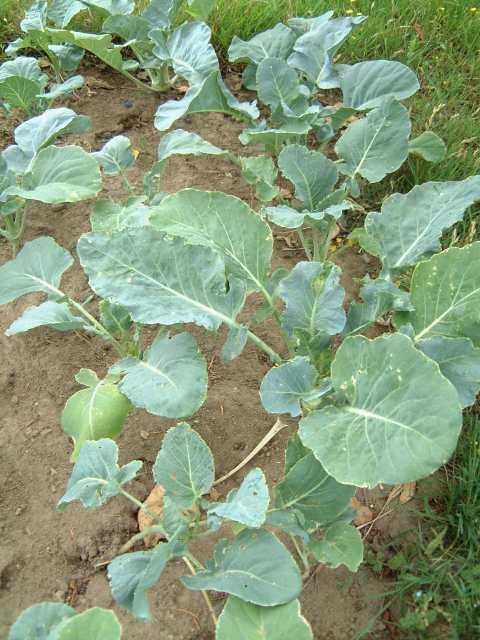 They are fattening up and will be ready for harvesting in autumn.
I planted a load of leek seeds into a tray and just left them. We had used soil from the garden and all that seemed to germinate in the tray were weeds. Once the potager was ready for planting, I revisited the leek tray and found, what I thought was a couple of leek seedlings and a load of grass. On closer inspection we had enough leek seedlings to plant a row in the potager and these are now growing really well. A lesson we have learnt is to not use garden soil in the future for all of our seeds but to fork out a little money on bags of sterile potting compost!
What a complete and utter disaster. Firstly I tried planting seeds in one of the orchard beds - nothing - well the seeds were about 9 years old! Next I tried sowing some newly bought seeds into the same bed - nothing. One final attempt - sowing seeds into pots - nothing. I now understand why the French buy their lettuce as seedlings - our friendly French farmer didn't have any luck with his seeds, although he did also buy some seedlings. Apparently lettuce doesn't like direct sunlight and heat when germinating - oh well that's that. Verdict, disaster!
As with the courgettes I planted a number of seeds expecting half to not germinate. We now have 7 Charentais melon plants growing in the orchard. We will update the web page once the fruits have grown and we have tasted them! I can't wait.
As there is loads of spare capacity in the potager, which is quickly filling with weeds, Adrian had the idea to grow some green manure. This is a crop that you let grow for a short while and then cut down and dig into the soil. Mustard is a good green manure so Adrian planted a bed of mustard seeds. These all germinated very quickly and we waited for them to grow. Unfortunately, the weather was very hot and dry for a couple of days and all the mustard died, leaving the hardy weeds in its place. These have since been dug in and something else will need to be planted in their place. Verdict, disaster!
We bought a nectarine tree and have planted it alongside the fanned trained Williams pear in the courtyard. We have taken down one of the old corrugated chicken coops (with the help of Adrian's dad) and now have a blank wall which this tree can be trained across. It is only small at the moment and I don't expect any fruit off it for maybe a couple of years - but I'll keep you posted!
During the winter chill (-8), we came across some olive trees for sale in one of the local supermarkets. We bought 2 plants, each a different variety, and brought them home. We nurtured them in the morning room with a number of other plants and then potted them into large pots. They now sit on the patio looking very Mediterranean and have even flowered - we could be producing our own Bellebouche olive oil in the future!
During our clearing of the potager ready for ploughing we found a old row of onions that had self-seeded from a previous year. These were harvested and the smaller ones used as spring onions in our salads. The larger ones transplanted into one of the orchard beds and left to flower and go to seed. We will try growing onions from the seeds next year. Once the potager was ready, our friendly farmer gave us a bowl of onion sets and these were planted in 2 rows. These are currently doing very well and some will be ready in the next few weeks as spring onions. We're not bothering with growing-on our onion crop because we use so many of them and they are so very cheap in the shops here. Our local supermarket sells a 5Kg sack for €0.65!
Before we had really planned out our potager and had it dug over by our friendly farmer, I decided that I wanted a pea and bean bed and got stuck in to digging an area in the bottom garden. After 3 days of hard digging, removing weeds and composting the soil, the bed was ready. Adrian found some chicken wire and built some supports for me. During one of our shopping trips for seeds we picked up a few packets of peas and beans.
We bought 2 varieties of pea, a mange-tout variety and a normal type. It is only since they have grown and we have been harvesting them have we come to realise that the normal type are much better. Picked young they are eaten as mange-tout and left a little longer as peas. Next year we won't bother with the mange-tout variety.
We also bought a variety of beans - french yellow beans and broad beans and we had some borlotti beans given to us by one of our UK neighbours. These were planted around the supports ready to be tied up when big enough.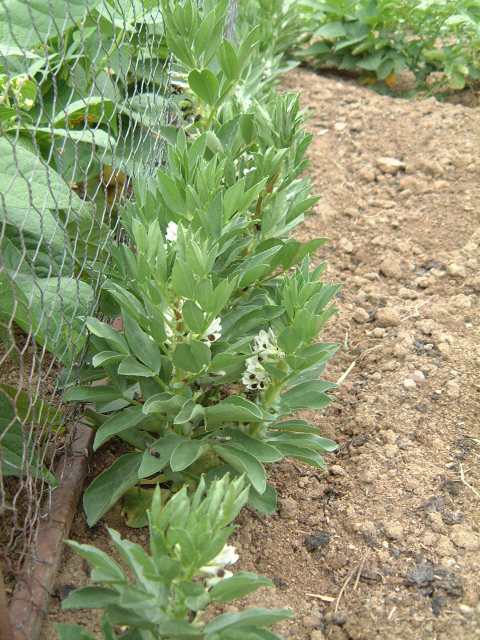 Our friendly farmer came over to see how we were progressing and seemed amused by our chicken wire supports. We showed him the packets we had planted and he told us that the french beans are dwarf - nain - which it did say on the packet but had got lost in translation.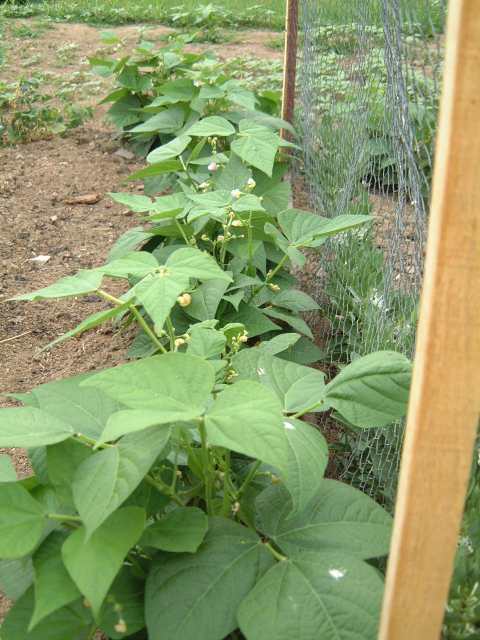 We planted a whole strip more of these in the potager - without of course any supports.
When we first arrived we didn't know what kind of fruit trees we had growing so naively went out and bought a number of fruits trees including 2 peach trees. We have since found peach trees by the dozen. They are growing in the orchard, courtyard and even by the patio - even peach stones were germinating in the flower beds! We will certainly have a bumper crop this year and are ready with the recipe books for preserving, baking, pickling in alcohol and even ice cream making. We will update the web page once the fruits have ripened and we have harvested them!
There are 2 pear trees in the garden - a fan trained William's pear in the courtyard and another unknown as yet variety in the orchard. We have also bought another William's pear which is currently being trained as an espalier next to the ancient apple espalier to create the beginnings of an espalier walk running from the orchard down to the potager. We may continue the espalier walk with different varieties of apples and maybe a few more varieties of pear. We currently only have one apple tree and three pears but will be on the look out for more bargain plant sales.
These have had a slow start due to the soil (garden soil - full of weeds) and lack of watering. New seeds were planted in compost and we now have about 10 pepper plants growing in the salad bed in the orchard.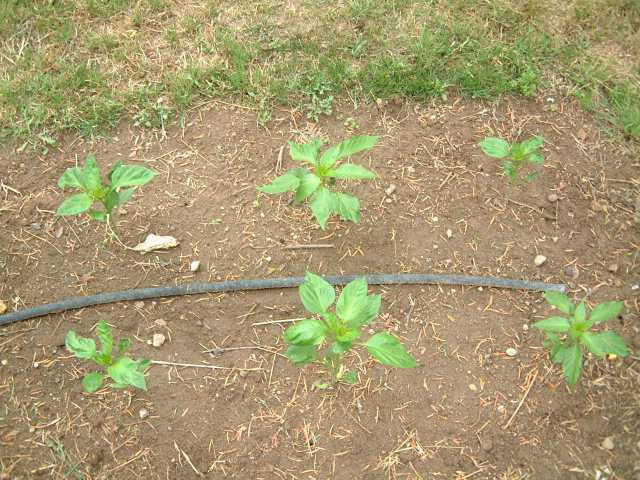 We will update the web page once we have harvested any peppers.
These trees were a surprise purchase. The local supermarket was selling off some of their plants and we saw 2 standard trees for 5 euros each. We weren't sure at the time what they were but thought they would look good somewhere in the garden. On researching them in all the collection of gardening books we have, it became apparent that these trees were something a little different. Pineapple guava's have dark green leaves with silver on the undersides. They flower in summer with bright white flowers with vivid red stamens.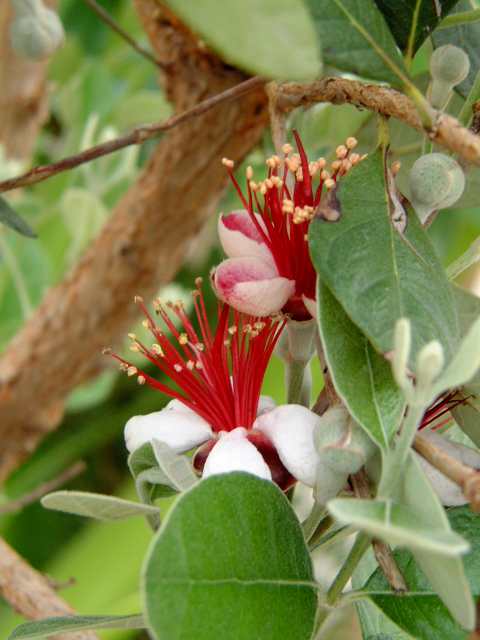 After flowering they produce small edible fruits - bonus !! All this for 5 euros each.
There are various plum trees scattered around the orchard. We have yet to discover what varieties they are, there seems to be 2 or 3 different types, but all seem to be laden with fruits waiting to ripen. We have a number of recipes awaiting their arrival. We will update the web page once the fruits have ripened and we know their varieties and have harvested them.
The potager had been, over the years, planted with potatoes, which are now haunting us by appearing in our newly sown lawn. We did remove as many plants and actual potatoes as we could find after the land had been scarified and ploughed but obviously missed a few. We did come across a small bed of potatoes which we have allowed to grow, at the bottom near the pea and bean bed. Adrian also planted a variety of potatoes in a new bed in the potager. These all seem to be doing well, which is a minor stroke of luck as Adrian discovered Colorado beetles on the other bed of potatoes.
If these are found in the UK you have to report it to MAFF but here in France they just give a gallic shrug of the shoulders and blatt them with chemicals. We decided to go the organic route and give these little blighters a bubble bath, picking each one off and drowning it in soapy water. We have managed to keep the numbers down and have removed any beetles, eggs or babies we find. We will only know the true extent of our efforts when we come to dig up the crop.
This was a late addition to the potager. Due to the fact that not all the gem squash germinated - we had a hole ready but with nothing to plant. Adrian found some pumpkin seeds which we had collected from a pumpkin we bought to make a halloween lantern, many years ago. He planted 6 seeds, not thinking anything would happen and 5 germinated. We had to transplant one into a new hole but we are not sure whether these will be good eating vegetables. If not, we have the space to make many halloween lanterns and put them around the garden and courtyard. We will keep you posted.
There is an ancient quince tree in the courtyard - a little straggly and in need of some tender care. It received a vigorous pruning in February. It currently is growing through a huge bay tree and will need to be pruned and trained over the next couple of years. The TLC it had this year rewarded us with a spectacular (if sadly short-lived) flowering display which had the most intense late evening bouquet, a bit like jasmine. Very few fruit appeared to have set and I'm not sure quite why this is, perhaps a lack of pollinating insects (something I might address in years to come!) . What fruit is there is furry and looks like a cross between an apple and pear. Apparently they are not very nice to eat raw but are excellent in jams or sauces. We will enjoy finding recipes for this unusual fruit.
I planted some 9 year old raddish seeds not expecting anything to germinate. We have had about 10 raddishes from these seeds - not brilliant but more than I expected. I then bought a new packet of white raddish. I have planted these and they have all germinated but they don't seem to be getting any bigger under the soil - the leaves are starting to go yellow. It might be underwatering or too much direct sunlight. I'll leave them in for a while longer and try every now and then pulling one to see what it's like. I will keep you posted.
We bought a couple of raspberry canes and planted them in the soft fruit bed in the orchard. For ages they looked like they were dead, just sticks in the ground, but now, one, yes one, has got leaves on it. I'm not sure what happened to the other but at least we have one plant alive. I'm assuming that we will get fruit on this next year - I will keep you posted.
I've been waiting for my parents to bring some rhubarb in the autumn and wasn't expecting to find some already in the garden. I had been digging a new bed in the orchard when I dug up some large roots. On further investigation it was a large rhubarb plant. We split the roots into 3 and planted them down on the potager with plenty of manure. 2 have survived and are quite healthy, the other just died. I will still plant some more from my parents as we are unsure whether the rhubarb is a good variety and I know that the one my parents have is fantastic. We won't harvest any rhubarb this year but let the plants establish themselves.
This plant is wonderful in salads, adding a slightly bitter taste. It is very easily grown but also turns to seed quickly. We planted a load of seeds in trays which I then transplanted into the salad bed. They have now all gone to seed, but we are collecting this so that we can grow some more. We may also try a wild variety or rocket in the future.
I have had a go at growing some shallots with mixed results. About half have grown and produced bunches of leaves the others have just sat there in the soil. Adrian picked when out to see if it had rotted but it had just rooted and nothing else. We will be patient and see what happens.
Another disaster I'm afraid. I planted a load of seeds directly into the salad bed in the orchard. Nothing, nothing but weeds. I'm not sure if the weather wasn't right or the location - oh well I'll try again when the time is right. Verdict, disaster!
During our 3 year stay in South Africa we acquired a taste for the different squashes available there. Just before returning back to the UK we bought some packets of seeds of vegetables and flowers we had grown to love from this wonderful country. As we had plenty of space on the potager to grow squashes, the previous owner had grown numerous pumpkins and marrows, I planted up 12 seeds of butternut and 12 of gem squash. Twelve butternut have been transplanted onto the potager and are growing really well. Only nine gem squash germinated and are also now doing well on the potager. I can't wait for roasted butternut squash with my Christmas dinner this year!
There is nothing as juicy or tasty like a freshly picked strawberry, so we bought two different types for our soft fruit bed in the orchard. Adrian told me that we should not allow them to fruit in the first year, to let the plants establish, but I couldn't resist just allowing a couple of flowers to develop. We've had 4 strawberries each. The 2 varieties are Ostara (excellent - our friendly farmer informs us) and Robunda. The Robunda has sent out runners and I have already planted these up, ready for our strawberry bed next year (this year's melon bed). Whilst digging out the melon bed I found 4 strawberry plants and transplanted these into the soft fruit bed. We are not sure what variety they are or even if they are any good as we haven't let them flower but I have already potted up 3 runners off them and our strawberry bed next year will be impressive. Lots of recipes ready and waiting including strawberry tart, ice-cream, jam and of course plain with cream.
Adrian planted a number of seeds directly in to the potager - we are awaiting germination. Our friendly farmer expressed some extreme surprise that we would even eat these (they're only really sold here as animal fodder!) as this vegetable he claims is renown for its "vent mauvais". Will keep you posted.
I have always wanted to grow sweetcorn but have never had the right location or space for them. Well, I guess we have the space now! We dug a large rectangle bed in the potager and planted about 60 seeds. So far about half have germinated but unfortunately the bed is full of weeds and it is quite hard to see where the remaining sweetcorn are. Once I discover another plant, I weed around it but we may only get about half of the original 60 seeds as full grown plants.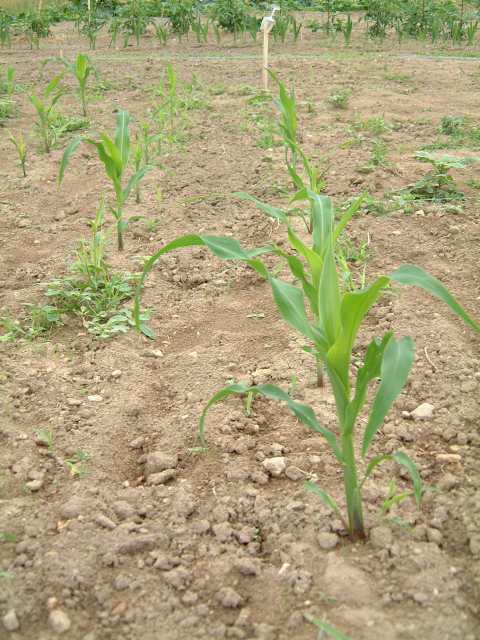 I can't wait for them to be ready - freshly picked sweetcorn, grilled on the barbecue, smothered with garlic butter - mmmmm.
Well, what can I say - beaucoup de tomate !! We have planted more than 30 plants of 2 varieties in both the orchard and down on the potager. There are a variety of posts to support them - wood from the off cuts for the Pigionierre, bamboo canes we brought from the UK and metal rods cut to roughly the right size - the French way!
We only grew 2 varieties this year but have realised that maybe we should have grown a few more, like cherry and plum - next year. The ones we are currently growing are - Marmande, a large beefsteak type of fruit - the bushes are hanging low with the weight of all of these. I'm looking forward to fried green tomato's and others stuffed with lovely ingredients.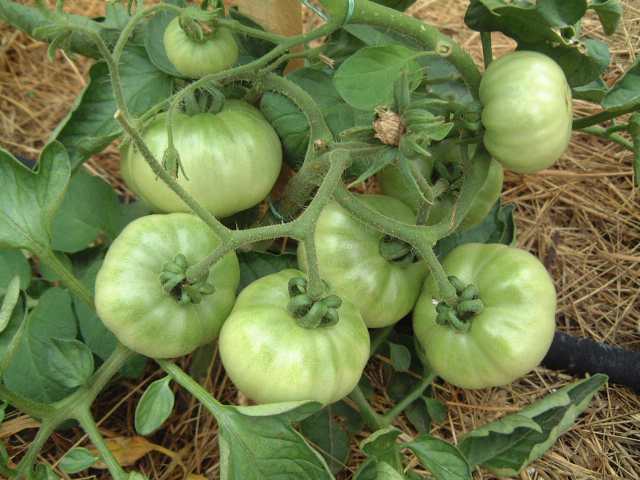 Moneymaker is the other variety - slower to produce fruit but apparently a good cropper. We will be making tomato ketchup (Adrian's own recipe), chutney, soup and might even try sun drying some.
We will keep you posted on how the crop progresses.
We'd inherited a large number of ungainly looking vines with no initial idea of the grape variety or whether they were table grapes, wine grapes, red / white etc. etc. What we did find was some interesting clues as to what might be in-store but the whole issue of viticulture and winemaking is worthy of its own entry elsewhere.
There are 3 main varieties, which seem to have been cultivated over the past years - they are on the garage, patio and left hand barn. We can only guess what types they are from the shape of their leaves. We will have a better idea once the bunches of fruit develop. There are also a number of vines growing wild and scrambling over various parts of the garden which will be either trained, removed or possibly transplanted over the years to come.
Next to the cut flower bed, Adrian dug out a vine nursery. After clipping the 3 main vines in the winter, with the help from my mum, he planted a variety of the clippings into this nursery and covered the bed with black plastic. There were over 70 clippings and about 70% of these have rooted and are growing well. One of the ideas we have for these is to create a vine walk, with vines growing on either side of a pathway, possibly in the paddock.
When we first arrived at Bellebouche we were totally overcome by the number of fruit trees growing around the gardens. While cleaning out the grenier we found loads of old walnuts which the rats had been hoarding. There were also little piles of walnuts around the orchard, so it was obvious that we had a walnut tree somewhere in our garden. As a small child I remember a huge walnut tree we had in our garden in Kent, my dad and I would go and pick the nuts from the ground around the tree and have them at Christmas time. We searched around, looking for a walnut tree, but couldn't see any tree of any significant height that could remotely be a walnut. I did think at one point that the fan trained williams pear in the courtyard was a walnut until our friendly farmer told me otherwise. It turned out, after some help from our friend, that a smallish tree opposite the williams pear, about 8 feet tall, was actually the walnut. We were at first a little disappointed with the size but realise now it will grow into a magnificent tree over the years to come. At the moment it has a handful of baby nuts developing, so we will at least have some fresh walnuts for Christmas.