Too cold to work.. so here was the first concrete update that we sent out after we'd left for our place in the sun...
---
A visitor today, responsible for some scary poops found out in the paddock garden. He was having a swim in the little pond that is behind the stables. Kind of a cross between a duck, a goose, a swan and a small dinosaur.. it was massive and quite easily the biggest duck I have ever seen! He was wary of human contact though and kept a safe distance when approached. Wisely it scarpered off when offered some bread - if I'd got my hands on it.... confit de canard!
Tidied up the front of the house a bit. The weeds that were all over the borders are gone, the ancient roses clipped hard back and the drive tidied a little. The all important Foden nameplate has gone up on the front! You can see from the upstairs left window (it will be our bedroom) that I've had a go at clearing away some of the grime. The granite cleans up easily and sheds the coating of yellow/green lichen without much of a fight. The render also cleans well but requires much more elbow grease. The neighbours across the way have had all their render chipped off and replaced - it'll look very smart when it's repainted. Interestingly our house seems to have much more granite used in the facing so we'll be able to scrape the render back (as you see now) and have different blobs of stone sticking through. Underneath the dining room window (bottom right) I've knocked out the old stone bunker that was used for storing gas bottles.
Joan and her mum have planted between them 400+ bulbs (Narcissi, Tulips, Allium, Hyacinth, Amari, Crocus etc.) in all the borders at the front/back, so come spring we should have a riot of colour to liven the place up a bit.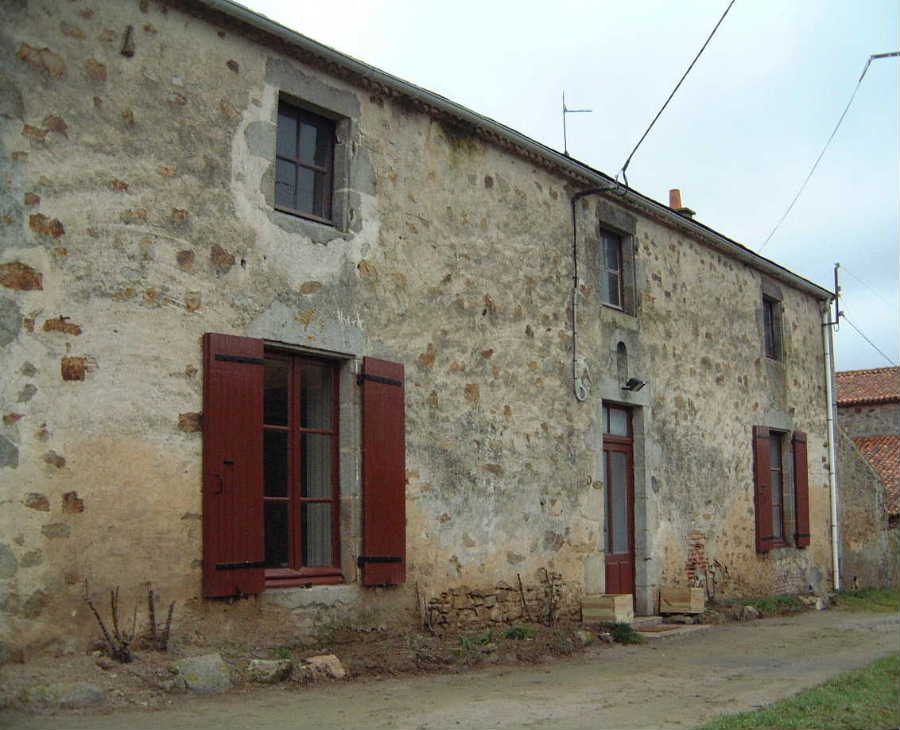 Ivy removed from the rear of the house, the cave window opened up, the bedroom shutter repaired and a border dug. The central chimney in this piccy has had a reprieve and will stay for a wood burning stove in the 'morning room'. We're currently using this annexe off the back kitchen as a boot room for de-clogging after time spent in the garden. See the white stripe at the right hand side of the back door? Interesting discovery made there (something else we'd failed to spot!) is that the doorway has been closed in by about 30cm or so... it should actually be a much grander portal into the back of the house. More photos of that soon when I take a cold chisel to the cement and reveal the original granite mullions. The render on the back of the house looks much more recent than the front and I shall give it a clean with some 'anti-mousse' and a thorough blast with a power washer. It's southwest facing so gets the worst of the winter weather and I suspect has been patched up much more recently than the front. Interestingly the roof doesn't look so bad in this snap but it is leaking in places. Lots of places!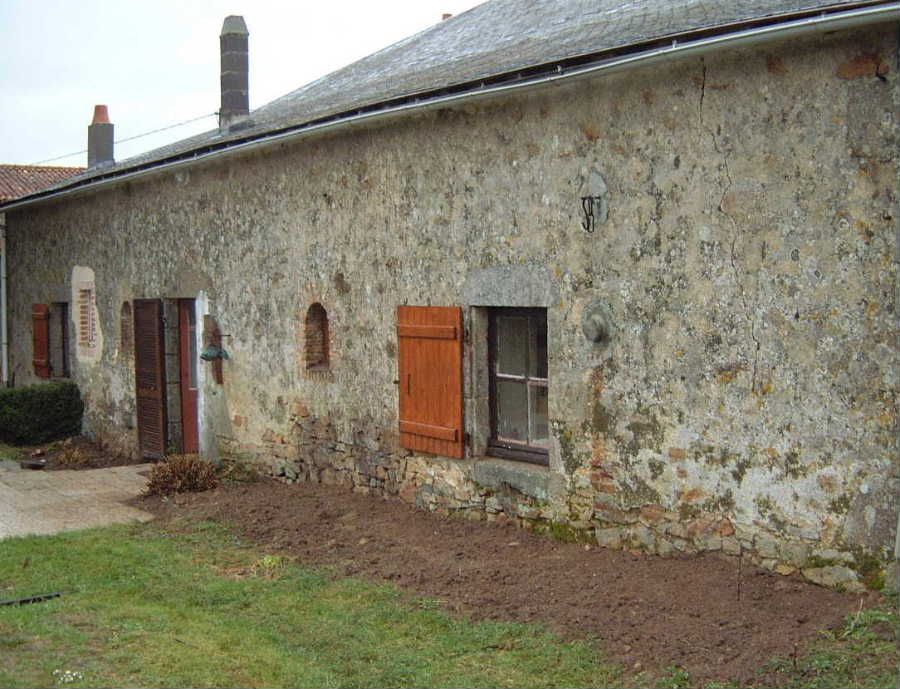 On with the gardening..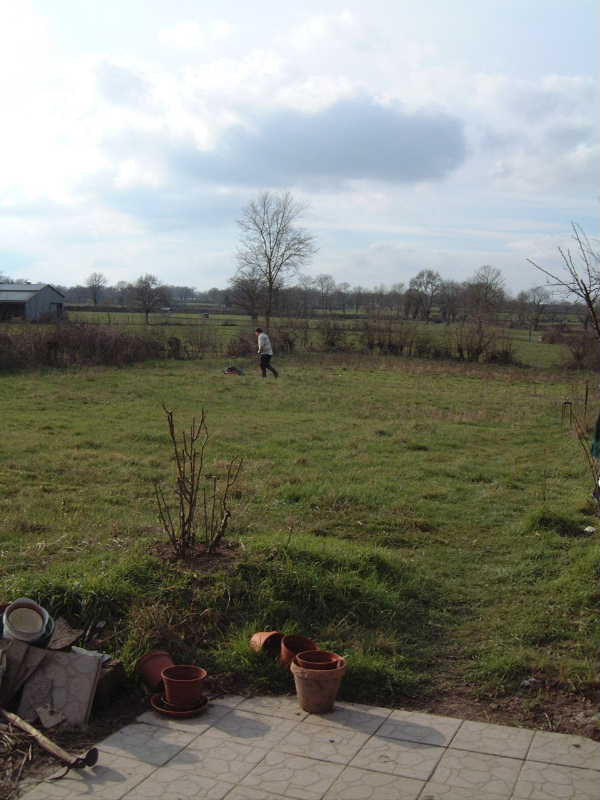 With a turn in the weather I was able to get out with the petrol mower and zip around the lawned areas in the back garden to tidy it all up a bit. It did make a huge difference to the look of the place with a tidier lawn. Important lesson learned? Should have bought a bigger mower and one that had power assisted propulsion. In the interim some foam padding on the handlebars and removal of a couple of layers of insualtion is all that is required!
I think a ride-on jobbie will be hard to resist come the summer time.
The vines adjacent to the rear terrace have been clipped back and the ground cleared up and some bulbs planted. I have bought posts and wire to re-frame and straighten up this row. When we saw it last September it provided a nice barrier between the terrace and the kitchen garden and orchard beyond.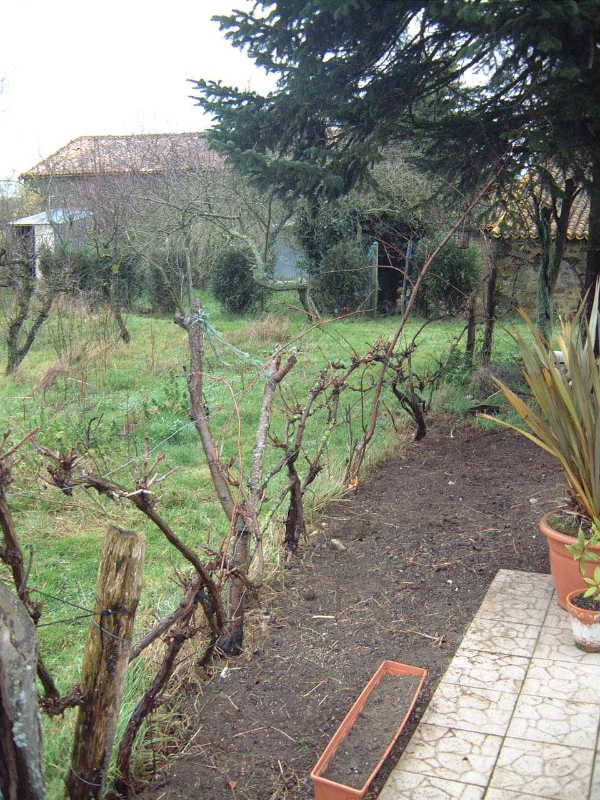 More vines clipped and awaiting re-hanging, these are adjacent to the 'left barn'. These had a very different growing habit to the other vines we'd worked on. Some of the one year growth was a good 14'-15' long so it has been pruned back hard to just a couple of buds. I'm hoping this might mean a healthy grape crop. I'd left some of that growth (you can see the whippy tendrils below) clipped back to 8 / 9 buds and will re-train replacement cordons for these four vines.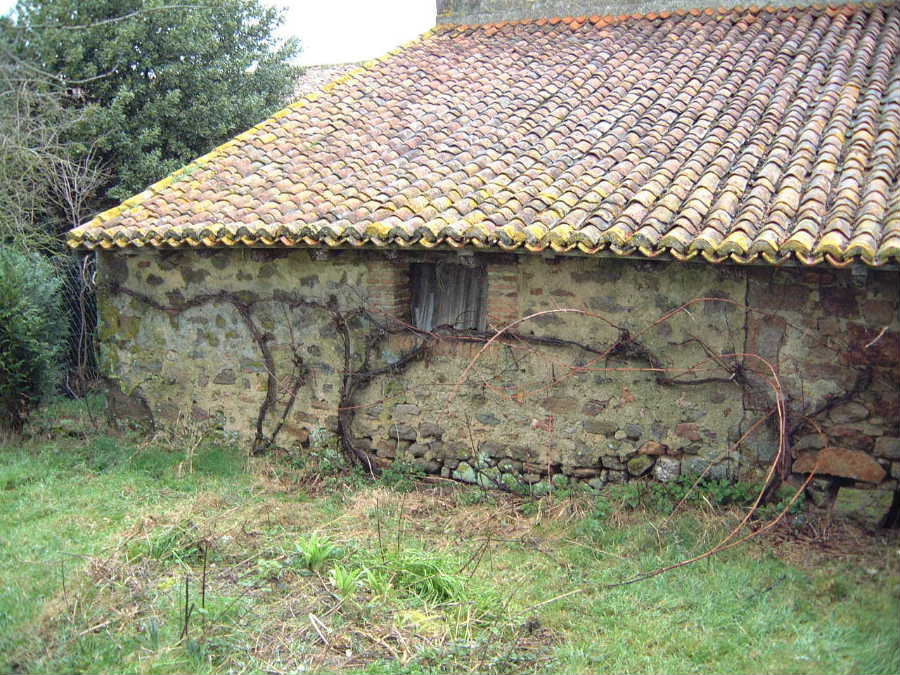 The "Quince walk" adjacent to the large bay in the back has had a haircut. The dead trees taken out and the conifers are now a bit more manageable. There is a 'wild' untrained vine at the end of this which I'll take off down past the end of the grange and along the border at the end of the orchard on the left. There is a hazelnut tree at the end of the walkway ( you can just about make out the yellow catkins in the centre of the picture). Sad news is that the Espalier apple at the end of this walk looks on its last legs and one whole arm of the espalier is more or less snapped through. I do remember though that this tree was heavily in fruit last year so it may have a few more seasons in it yet. The Walkway is a natural for more espaliers though so I shall get some replacements underway.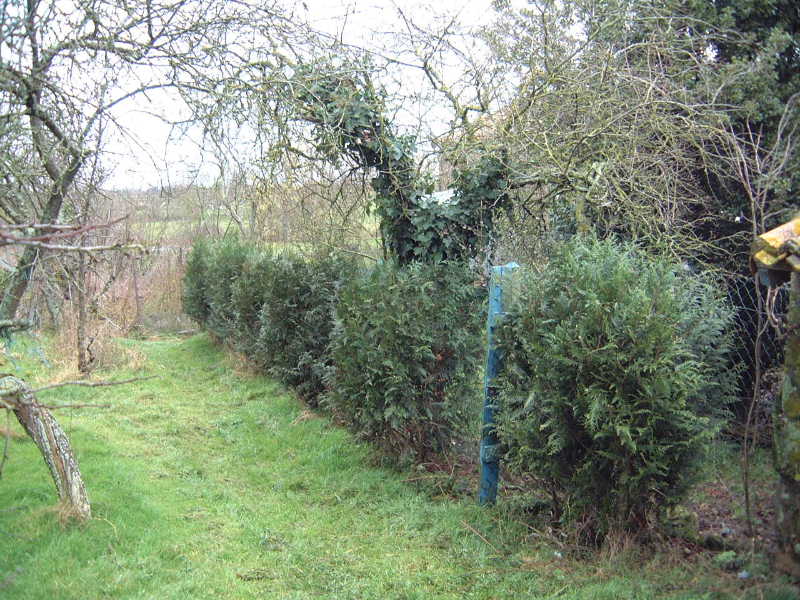 Grange cleaned up nicely! This south facing wall for the grange was covered in Ivy. Joan, her mum and dad spent all one morning hard at it scraping the bits off. It has revealed a wall that is in basically good order and a old fan trained peach/apricot tree. This portion of the garden has been used to keep poultry and who knows after a few more months it might be full of chickens again! Infact if I get my way there may even be a few "pintade"!
A quick look through my gardening books and a reference work on viticulture tells me that there is a good chance of cultivating new vines from my clippings if I make a 'vine nursery' so out with the spade, dig a two foot deep trench, mound up the earth and you're nearly done. In the snap below I'm about 1/3rd of the way through the job. It was hard work (something I'm unaccustomed to!) but in the end I got about 70 clippings from what I think (from the parent vines) are three different varietals. I won't know until the summer when the vines are in full growth and some fruit has set. Infact, I'm not that sure that the cuttings will take yet... but I'm a glass-half-full guy!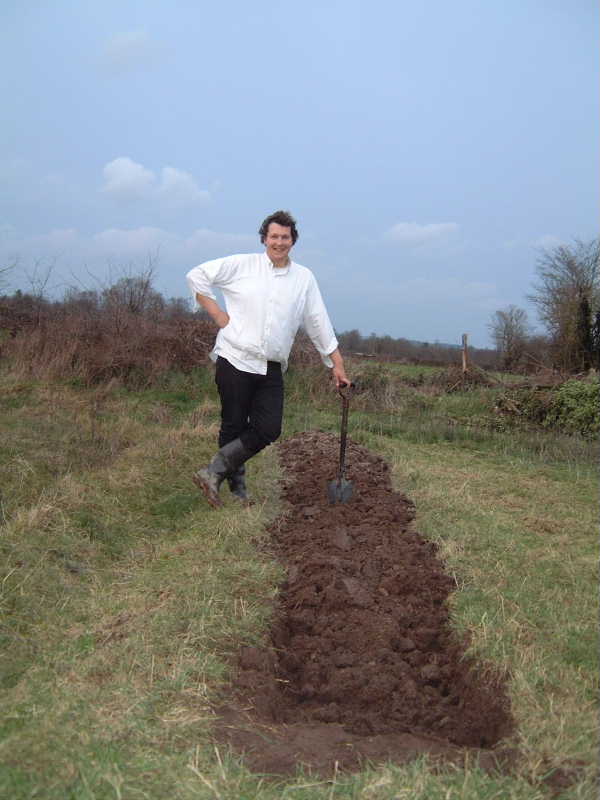 after...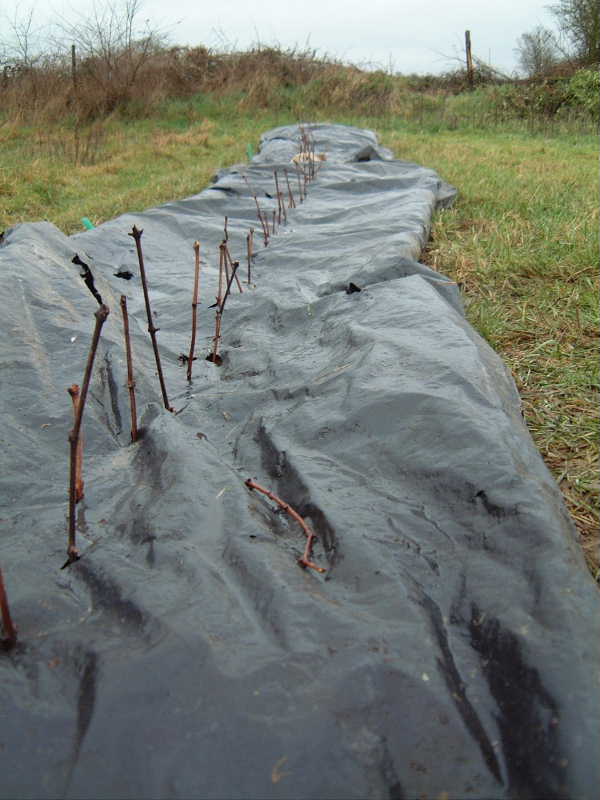 Whilst I had the spade out I also dug over the artichoke bed and rescued the neglected plants, dug out the old tubers and planted up a row of new offsets for this year. Should give me a healthy crop of one of my favourite foodie veg items! You can see the ancient espalier apple tree in the background here.
Now, more serious culinary news! There's a funny tale behind this but .. in the end it'll all make some kind of sense. I hope. When we saw the house in late summer last year there was an awful lot to take in. So much so that even across the three days we spent here and the close on 380 photos that I took inside and out I managed to miss a room. Well, sort of. Sort of missed it and it's sort-of a room! Fortunately my eagle-eyed mum spotted what we'd missed in about 5 seconds of our arrival when we moved in. A quick glance around the outside and she figured out what I'd missed.. that there was a "room" of about 14'x 12' attached to the side of the house that we'd (almost) completely ignored. Well. Turned out to be an ancient four-a-pain or bread oven!
Well, that was just what I've always wanted and a real unexpected bonus. The house keeps on turning up things that surprise and delight but this find was the find to end all finds. When the initial euphoria had subsided ( and this took quite some days!) it struck me that I should go at it slowly and build up to a big bread-baking and pig roasting blaze. So I thought it might be just the job to set a small fire going for a few days, heat it up gradually and see how it works under some carefully controlled conditions. So. It's time to smoke some bacon. But to smoke bacon you've got to make bacon. So, off to the boucherie to procure some side-of-pig!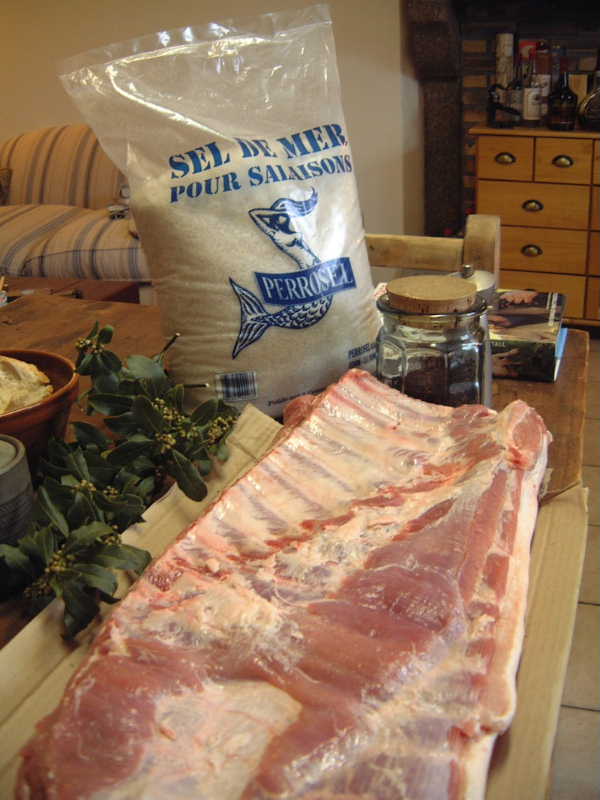 All you need is pig, salt, cloves, bay leafs, the excellent River Cottage Cookbook by Hugh Fearnley-Whittingstall and a willing feline helper! Needless to say the results of the makin' bacon experiment will make a further entertaining webpage (!)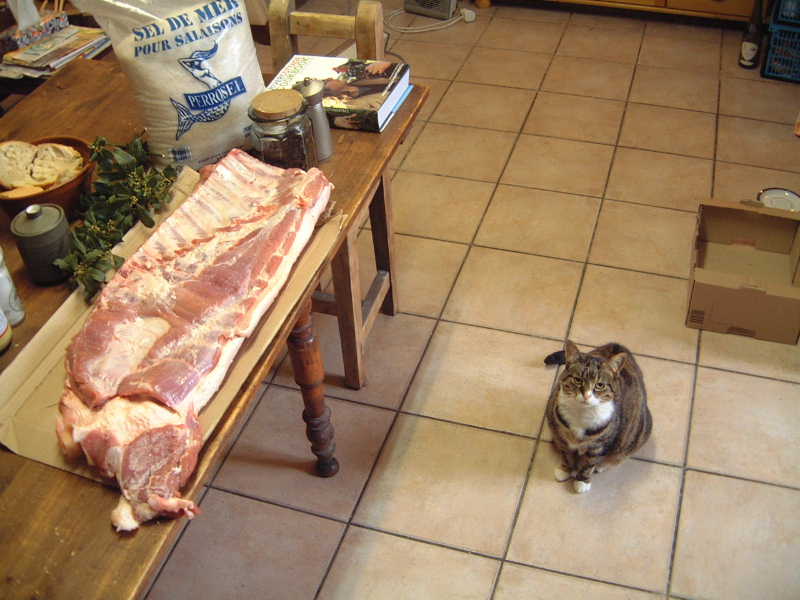 It's not all Kitchen fun and muddy boots... we also have some serious restoration to undertake this year. And restoration requires playthings... erm.. I mean Tools! I bought this scary-high platform to assist in up-high working. Once built it has to be stashed in the main barn. I'm normally hopeless when it comes to heights and working at 5M up requires a massive change in attitude (and altitude) for me. It'll get pressed into use early next week once the winds have subsided. I need to repair some roofing where we'd taking down overlapping ivy that had grown through the canal tiles on the grange.
One last vine/wine photo... I hadn't really planned all the malarkey with the vines but finding a room full of winemaking equipment (oak barriques and a grape crusher) in one of the workshops made me think there is a reasonable chance that I'll be able to knock up a few hundred litres of Chateaux de Fod in 2005!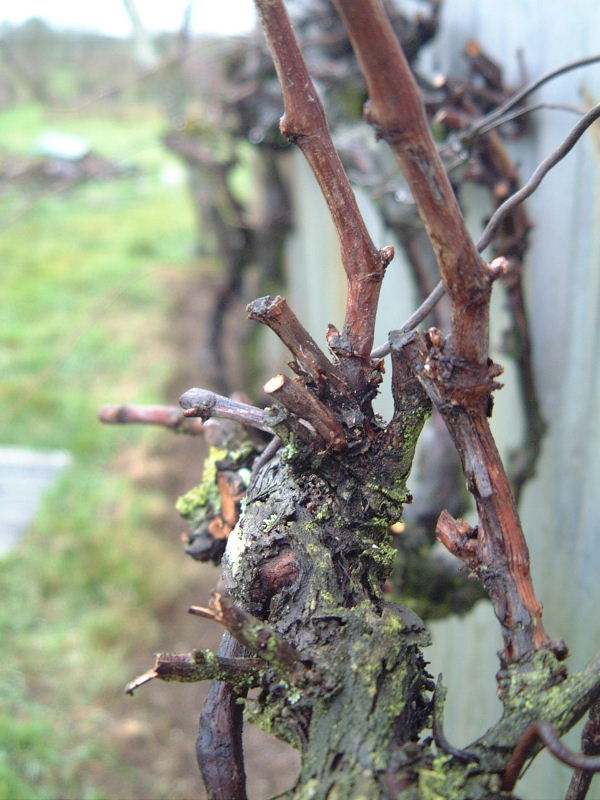 That's it for now. I have written a great deal more content for bellebouche.com ( experiences of buying a house in France, the locale of Poitou-Charente, local architectural and cultural highlights, local markets, foodie things, travel info etc. etc.) and will try and get the website design right before I fire some more up, for now it's just a few simple snaps for our friends and family to let you know what we're up to on our French adventure.
I'll fire out some emails when there are some significant changes. If you want to get in touch then please send us an email
As ever, visitors welcome but book fast.. we're filling up quick!