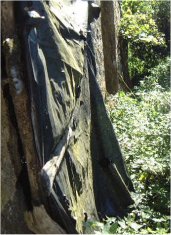 The huge centre barn was half full of hay stacked up against the back of the building. From the courtyard you could see there was a back door to the barn, but this was covered up in black plastic. The doorway was inaccessible due to the hay blocking it.
As the only way into the barns was through the front doors, by the lane, a shorter route would make life a little easier.
If this doorway was cleared it would make a quick pathway to the right hand barn and the woodstore in the winter. It would also provide cover for any work supplies or gear.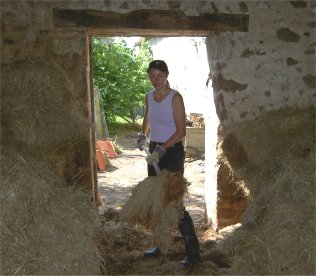 With pitchfork in hand, I started to move the bales to the sides of the centre barn. After more than thirty odd bales I slowly revealed the doorway. Removing the black plastic and clearing a route through allowed light to stream into the centre barn. The only drawback is that there is now no door so the centre barn is open to the elements and local wildlife.
Eventually, when we come to renovate the barns, we will install french windows in the doorway.