Now, more serious culinary news! There's a funny tale behind this but .. in the end it'll all make some kind of sense. I hope. When we saw the house in late summer last year there was an awful lot to take in. So much so that even across the three days we spent here and the close on 380 photos that I took inside and out I managed to miss a room. Well, sort of. Sort of missed it and it's sort-of a room! Fortunately my eagle-eyed mum spotted what we'd missed in about 5 seconds of our arrival when we moved in. A quick glance around the outside and she figured out what I'd missed.. that there was a "room" of about 14'x 12′ attached to the side of the house that we'd (almost) completely ignored. Well. Turned out to be an ancient four-a-pain or bread oven!
Well, that was just what I've always wanted and a real unexpected bonus. The house keeps on turning up things that surprise and delight but this find was the find to end all finds. When the initial euphoria had subsided (and this took quite some days!) it struck me that I should go at it slowly and build up to a big bread-baking and pig roasting blaze.
So I thought it might be just the job to set a small fire going for a few days, heat it up gradually and see how it works under some carefully controlled conditions. So. It's time to smoke some bacon. But to smoke bacon you've got to make bacon. So, off to the boucherie to procure some side-of-pig!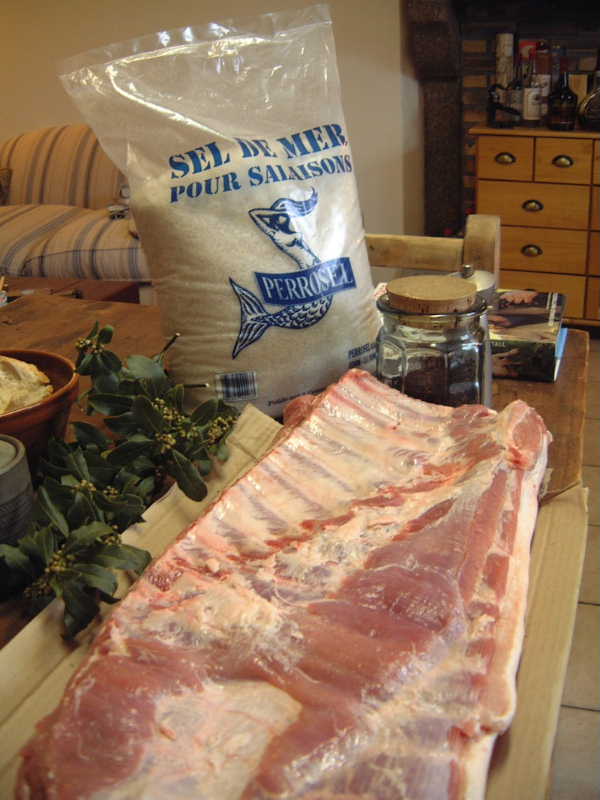 All you need is pig, salt, cloves, bay leafs, the excellent River Cottage Cookbook by Hugh Fearnley-Whittingstall and a willing feline helper. Needless to say the results of the makin' bacon experiment will make a further entertaining webpage (!)