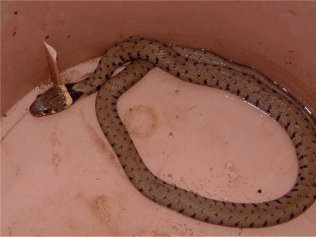 Our well traveled cat was in the garden, hunting when suddenly she started meowing loudly. When she does this it means that she has caught something and wants to show us. Being in the countryside, it's no surprise that she catches numerous rodents, so we just ignored her. Well, she got really upset and started howling. Adrian went to see what was up …… she wanted to show us a snake .. alive.
She was in the orchard, stood guard over a smallish, pretty looking snake. At first it feigned death, but when we prodded it, it hissed and reared up like a rattlesnake. We are not sure if she caught it or had just found it, but it was all in one piece. With a quick flick of the wrist with a trowel in hand, it was put into a bucket for a photo session. We then surfed the internet and found it to be a common grass snake.
It was released down the bottom of the garden. It wasn't as big as the skin that Adrian found previously but it still was about 50cm long.