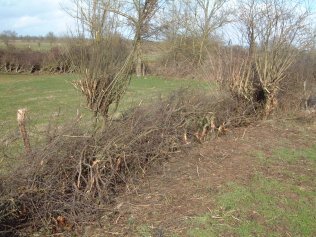 I have no idea if there is any particular tradition of Hedge Laying in France. In fact, thinking about it, I don't think I've ever seen it done anywhere. The usual form with hedges is for farmers to come along with a mechanical flayer and buzz the tops off every once in a while – the results are familiar and I think brutally ugly. Not that you notice so much in the summertime when you buzz around the countryside on your hols but once you have a trained eye for the real deal.. you can see that it's worth the effort.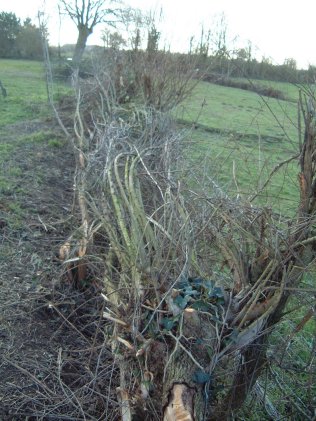 In advance of moving out to France I knew I'd always wanted to have a go at this. So with a little research I found out that the Bollin Valley partnership ran a one day course in hedgelaying skills, so on a cold and rainy November 2004, we went off and had a go. The results were… impressive!
Fast forward to January 2006, just about the right time to have a go at our hedges now. They were not in the very best of condition and our farming neighbour had over the years done the usual mechanical hacking on them, so it was time to set to with the work. Firstly, I think I invented a new style! Bellebouche style! There are plenty of traditional methods and I've used a mish-mash of different types… the layout of our garden and the gap at the end meant that I also had to split the direction of the lay. It looked a little odd at first but will look great when both of the sides get done in 2007 – it'll really support the flow of the garden.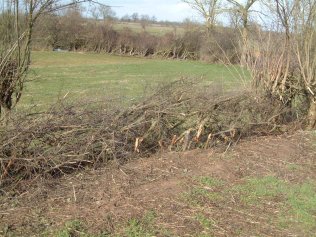 So, two full man-days worth of labour later, one ripped pair of jeans and one painful "falling arse first into barbed wire" incident later it's done.
If you're considering having a go then I suggest you buy the book on how to do it from the British trust for conservation volunteers. There's hundreds of years worth of accumulated knowledge in it and it makes an excellent read.
Now, if you live in Poitou-Charentes and would like a little hedge laying consultancy and advice… I'm your man, give me a call!