Unable to contain my enthusiasm for all things rotting, I nipped out for a stroll round the garden this morning toting a mug of coffee and… my digi cam.
Couldn't resist checking what was cooking down on the compost heap and lo and behold.. we are cooking on gas!

This was taken just about 7:30 in the morning… probably not much more than twelve hours after the whole thing got going. Marvelous!
Another update at 13:00, gone up another ten degrees.

And now, the early evening reading at 17:30 pushing higher still.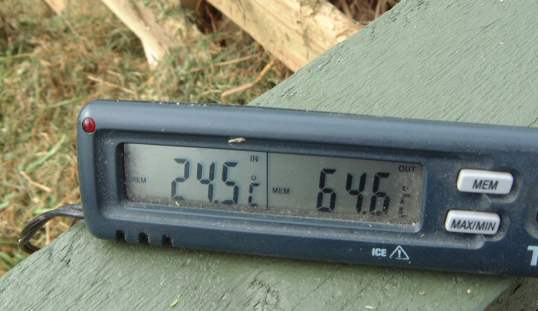 For giggles I asked Joan to stick her hand in… the response? "Ow!"
Last reading of the day, 19:30. A whopping 66 degrees.

So, just 24 hours after starting this up and the heap is simmering away nicely. It's radiating heat and visibly shrinking… so much so that I transferred a fresh 120litres or so of standby material onto it along with a fresh layer of hay, a barrowload of cauliflower leaves and of course…. the piece-de-resistance… a touch more moisture in the form of a light sprinkling of bellebouche top secret compost accelerator!