I'm not entirely sure where this came from, but I've always had a long-time fascination with bees ever since I was a small boy. Usual childhood thing of collecting them in jam jars in the summer in my Nana's garden and just being slack-jawed in wonder at looking at them through a magnifying glass.
So, no time like the present – it's bee time in Bellebouche!
But first the road that leads to today started out a few years ago with the accumulation of some bits, whilst I was idling away time/money at an antiques auction in late 2000. A 'bee puffer/smoker' came up, filthy old thing that just oozed charm. It was rusty, smelled smokey and had gnarly looking leather bellows. I thought.. I just have to have that! Things like this which other people might off-handedly dismiss as old tat… I see them in a different light. To me it had an obvious personality, charm, bit of history and something of a past really speak to me. Got it for £5 I think. Good start on the bee keeping journey…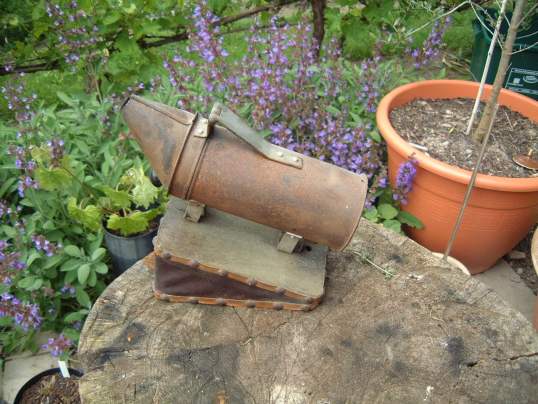 A couple of years later…in September 2003 just before we came to France on our first property hunting expedition… browsing an antiques book store in the UK, found a 1923 manual for beekeeping. WOW, had to have it. £2. Bargain!
An idle moment online last year and I discovered 'beekeeping for dummies', it cost a tenner and has been read cover-to-cover a few times now. At this point, my mind was made up… when the right thing came along I'd have it.
More 'idle surfing' (yeah, right) on ebay.fr last week where I discovered a seller with a brand new 'Dadant' hive, looked nice enough, was full of frames, pollen screen, mouse excluder, hardwood base and had a pretty hardwood top. It was showing for no money. I bought it for €78 – a complete bargain.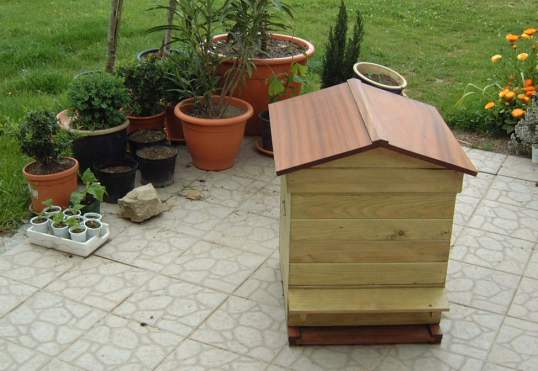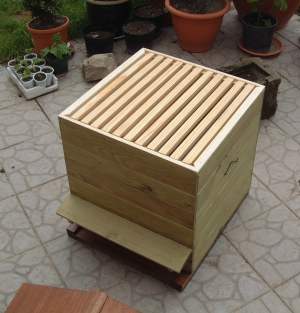 So, I've got plenty of hopes!
I wish to assuage my childhood guilt for perhaps being a little over enthusiastic with the bee-in-a-jamjar/magnifying glass interface.
I'd like to improve pollination in my orchard. We've planted upwards of 20 new fruit trees since we arrived, we'll undoubtedly plant more.
I'd like some honey, yes please!
I'd like to enjoy the company of 50,000 new friends.
I'd really like to not get stung too often by my new friends, thankyou.
And that's it so far, got most of the bits. Need some more 'stuff' and of course some good bees and bit of tutelage. I'm sure it can't be too hard and that, being France, there'll be some regulations or other I need to tackle but.. that's just so much paperwork which I'm now able to dismisss with a simple gallic shrug

.
There does exist in my minds eye future event where on a brisk autumn morning I'm sat in front of our woodburner, cradling a mug of coffee and a slab of toast from a home made sourdough loaf, cooked in my bread oven and it's dripping with home made honey that I've just cut from a fresh Bellebouche comb. Right now it's something of a fantasy but I have high expectations that it'll taste of Sage, Thyme, Rosemary, Acacia, Sunflowers and lots of Sunshine. I'm sure it'll prove to be fun getting there, a little bit sticky, hopefully not too painful and of course it will be deeply satisfying.