The demise of our cockerel necessitated some swift action. His genetic legacy was sat ticking away in the kitchen! Eggs that we very much hope were fertilized by him were waiting to be turned into the usual array of omelette's, souffles and tasty brekkies. Time to leap into action.
Nature's own best way to raise chicks is under a broody bird. Sadly, none of our hens are/were broody. We've seen little signs of it but as they have the complete run of 6000m2 of garden (and beyond!) they're not too used to sitting and squatting down in one particular spot. We always try and collect up all of the eggs that are laid and once or twice when they've found a new favourite spot (in a bed of sage plants is the current in vogue place). So that's that option out.
Time to home-brew an incubator!
Ingredient list.
One Wooden wine case. Cost €0*
One aquarium heater. Cost €2 courtesy of the 'Noz' 90% off sale!
Quantity of 2cm thick polystyrene packing for insulation
Quantity of reclaimed vintage roof slates
Used egg tray.
And that's it. There are plenty of online plans but in essence I insulated the bottom of the wine case with a blown poly liner, then a piece of slate.. snaked the heater matrix cable on top of the slate bed and then another four layers of slate. I'm hoping that the slate will help with getting an even distribution of heat from the element and to also play the role of a thermal store – every time we open the case heat energy is lost so this should help prevent the temperature cycling too much. The sides and lid were insulated with the normal polystyrene.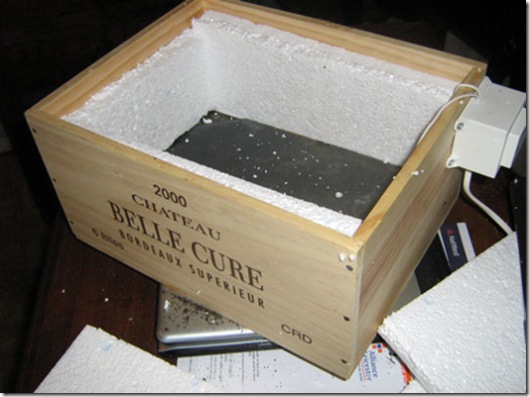 And that's that. Eggs in and off we go!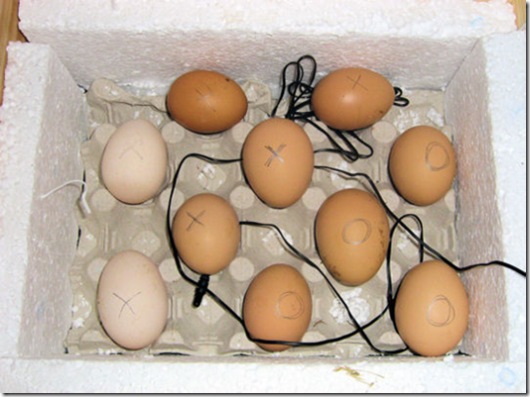 Plenty of risks and pitfalls of course in all of this. We've never done it before so don't really appreciate what is necessary. Temperature and humidity might be a bit of an issue and of course we have no guarantee that the old boy had any lead in his pencil. However, If everything works and we're lucky it'll be an interesting Bastille Day this year.
* That's a bit of a fib. A half case of Chateau Belle Cure 2000 @ €26 was cheap as chips a couple of years ago. As a compulsive hoarder of this kind of thing I knew the case would come come in handy some day! If this contraption actually works then I reason that – by rights – I've probably saved enough on the cost of a shop bought incubator to buy a couple more cases of this swag…
"Parfaitement équilibré, avec une matiére concentré sans étre exubérante. équilibre est parfait, soutenu par une petite acidité qui lui donne de la fraécheur. La matiére est belle et bien concentré, trés plaisante. Sans étre un monstre de complexité, l'ensemble est harmonieux, élégant méme."
All of which will come in handy for knocking up some autumnal Coq-au-Vin.