Over the last few years, here in France, I have met some interesting and charming female ex pats.  A group of us "ladies" meet once a month to catch up on all the news and gossip and offer advice and help where needed. It is an excuse to get away from the day to day running of a French farmhouse and let my hair down.
During these monthly meetings suggestions are made on places to visit or activities to try. These have been as diverse as stained glass window making, archery, crystal healing as well as trips to local sites of interest.
Just recently, a partner of one of the ladies suggested we go to the local gun club and have a go at rifle shooting.
I love this type of activity so got my name down straight away. We all went early this year to have a look around the club – a huge warehouse/hanger on the edge of an industrial estate. We had a couple of shooting touraments and competitions in the 10 metre rifle range.
I didn't do too well, I blame the gun as it had an unusual way of loading the pellets which eventually deadened my arm.
Well this time – different story.  I used a standard air rifle.  We were again on the 10 metre range.  There were about 15 of us and we started off by just getting used to the guns and shooting at a target with 20 pellets.  Then the real fun started.
Now, I can be very competitive and if I enjoy an activity, I will try to be the best.
We started with 4 paper targets each.  We had 5 shots per target and at the end of the competition, the totals were added up.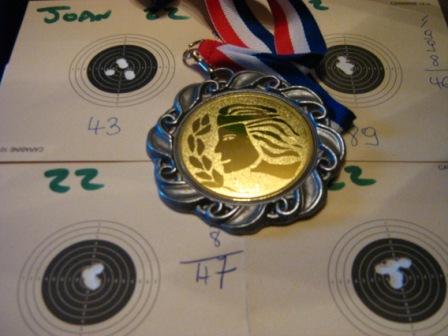 I scored 180 and came second after the winning score of 183.  I was awarded with a silver medal. You can see above my 4 targets and the medal.
The next tournament was an elimination round.  First we had to shoot 6 or higher, with just one pellet.  If you got less then you were eliminated.  Then 7 or higher up to 10 (bulls eye).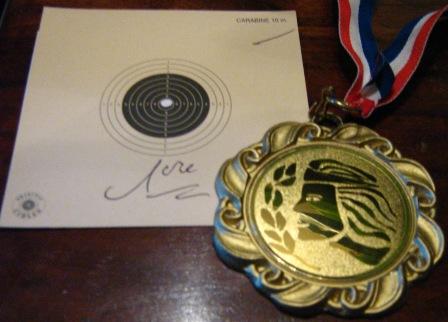 Well the photo says it all – GOLD !!!