On a journey to the airport, Adrian fleetingly spotted a poster with an Easter Island head on it and the words Bocapole underneath. Easter Island has always held a place of wonderment for Adrian and is a place he would love to visit. After a little surfing on the internet the advertised event was located. Foire Expo de Bressuire – "Des Marquises A L'Ile De Paques".
An annual exhibition, held at the Bocapole, with this year's theme being Easter Island. Offering Tahitian dancers as the entertainment and an agricultural fair and rollercoasters, bumper cars and other fun fair attractions.
With the possibility of actually seeing a real Easter Island head, we set off to visit the show. Entrance to the huge arena – a smaller version of the NEC- was 4 euros each.
On entering the main hall, we discovered it to be full of traders, offering all their wares from solar panels, heat exchange pumps, wooden staircases, cleaning products, furniture, paint etc etc. Hrmm not quite what we had expected.
Out the back door and we discovered tractors, mowers, rotavators and other agricultural paraphernalia. A large tent nearby was packed with cows from the local region. Some having won prizes with their backsides labeled accordingly.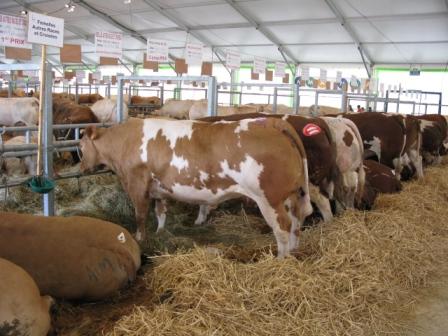 And the Easter Island part …
Well, on entering a large marquee at the rear of the agricultural section we found the Easter Island heads. All made from polystyrene. What a let down.
They did have more stalls with (supposedly) South Pacific jewellery and clothing. There was one stall with a tattooist doing a traditional Tahitian ornate tattoo on a willing body. There were plenty of pretty girls walking around in flowery sarongs and a small group of musicians playing Tahitian music.
All in all – not really what we expected. Oh well, this is France !