Sunny and 19 degrees, what better way to start the BBQ season than with a kilo of sardines from the local supermarket. After an hour spent cleaning the bbq and removing the remains of the 2008 bbq season, the cleaned sardines were ready to go.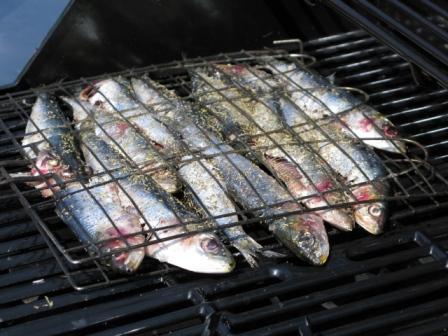 The bbq was lit and then while the sardines were cooking a selection of salads were prepared. Fresh green salad, endive and orange, egg mayonnaise and fresh bread with olive oil and basamic vinegar.
But …
on checking to see how the sardines were doing we discovered they were only half cooked. The gas had run out !
We had joked last year, everytime we had a bbq, that the gas would run out at the crucial moment but it never did. Oh well, at least we know that this year we will have a full can – once we go and buy one.
And the sardines?
They were finished off in the oven and the whole meal eaten outside in the sunshine – downed with a glass of refreshing cider.