July, 2010:
Well not quite …
This was one of the spectacles at this years 8'eme Rassemblement National Equiliberte at the Hippodrome de Villeneuve, Thouars.
Ma'Tchick not only rode two horses underfoot but also later in the day showed off his riding prowess by jumping off and on a galloping horse, riding backwards and also alongside the horse (ie hanging on for dear life by hugging the horse on one side).  Everything you really don't want to try at home!
The day I visited there were a few other spectacles, one included a shetland pony being ridden by a dog and another of a rider showing off his skills using the Western style of riding (which I personally prefer) rather than the more rigid English version.  He galloped his horse around the ring with his arms in the air, made his horse move around an obstacle course with great precision and basically seemed to be having a great time.
My friend and neighbour Julie showed off her old breed animals – her horse and a mule and other (can't remember its name).
My friendly farmer neighbour had spent the full 3 days at the show, sleeping in his horsebox!  There were quite a few people sleeping on site in either tents or in their vehicles.  Each pitch had a little electric fenced off area for the horses.
There were loads of out-rides starting early in the morning, stopping for picnics on the way and returning back to the Hippodrome around 4.00pm.   For those without a horse there were plenty of opportunities to buy stuff for their equine friends.  Saddles, tack, wellies, clothing, rillettes, sweets, soap – the usual showground stalls!  If you wanted to you could even have your horse's teeth cleaned at the on-site dental hygienist.  I just wish I had taken a photo – totally surreal!
I didn't stay for the evening repas or spectacles but these were held every night to entertain the people stopping over.
One complaint of the day – from my friendly farmer neighbour – was that the constant music was driving him mad – he would prefer country and western music to the bordello music they were constantly playing and he told everyone he could about it!
This show is really for the horse  and owner – plenty of opportunities to swap horsey stories, go riding and just enjoy being with your horse and other like minded people.  For the outsider the odd spectacles were a little amateurish and few and far between.
We've been on radio silence for a while but don't equate silence with idleness! Quite the opposite. It's been a long time coming but a new roof is underway. Thanks largely to the catalyst of Tempete Xynthia back at the end of February.
So, from February to July…. how does it take so long.
It took three weeks to even get someone to come out. Of course several hundred thousand other people also wanted a roofer.
Then one joker didn't even get up on a ladder to have a look, just walked around the garden and had a look from a distance. His quote? €70.
Finally, a competent guy, did a proper survey, actually had a look at the damage, gave us the bad news. It needed replacing. The storm had pulled up the laths from the chevrons… so whilst the roof was on the house it wasn't actually, you know – really on. Just sat there. New slates and stainless crochets were the prescription.
Then we submit a claim to the insurance company. They're deluged. Our claim is so large they need to send along a specialist assessor/engineer. The wait time for this guy? Another month.
He turned up, spoke rapid fire double-quick Parisian engineer talk. His verdict… yes, you need a new roof. One hour later, one coffee and my best french negociating hat on and I sign up a deal with the company. The cheque will be with us in 'a few days'. A few days turns into almost 4 weeks. Further negotiations with the roofing contractor and we strike up a deal.
Can we fix a date? 'Impossible' because he can't forecast the weather of course and then there is the small matter of his vacances en Angleterre. To go and see Mark Knopfler and drink English Beer! Heroic!
The down time allows us to start the search for a new Girouette – a weather vane. The old one had mostly rotted away and all that remained of the grisly hunting scene it depicted looked a little forlorn. Find a company that do beautiful hand made Coqs up in the Loire valley. That'll be the best part of €1000 please sir! The search continues. Two visits to local artisans turned up not much else. One guy sold some that were from italy – €477 and another made them but wanted €800, maybe. If he could be bothered. Thanks but no thanks. A quick scout on ebay and we turned up a magnificent magnificent fella and a snip at €129! Pics to follow soon.
So, work commences in the middle of June and it's all very exciting. Until midway on day two when we learn that the wood which the storm had pulled away from the house was not really salvageable. Despite numerous prior assesments of its condition. The next day new wood arrives and is laid and over the course of the next week the back face of the house is complete. It turns out that the structural state of the exterior walls wasn't up to scratch so I stepped in to repair them. Not the easiest of jobs and it cost me 34 man hours of my time over a couple of weekends. 1m3 of sand and 350kg of lime. Heavy work having to mix, lift, shift, carry, lay granite and remortar the old blockwork in but a once in a lifetime chance to fix it all. I've got some heinous lime burns on my arms as there was nothing for it – working up on top of the house in 32 degree heat was a killer. I'd never been so exhausted in all my life – it was brutally punishing.
And now, this last week a lot of the finer detail that we'd paid for starts to appear- a 'Nantaise' style set of guttering is all hand cut, laid and soldered up. New zinc is shining and it's starting to look really good.
Removing the old gutter has revealed a pretty architectural detail of the house that was previously hidden so I've spent my third weekend up the scaffolding drilling out, polishing up and repointing the ancient terracotta bricks and canal tile that acts as the fascia that's crowning the house.
The new roof is 3/4 on now and looks fine – it'll never be perfect of course as it's gone onto an old house but it's been a long time coming… another week from now and we should be all done.
I'll update with pics when the job is finished.
I love my garden and working in it brings me up close and personal to a variety of critters.  I know the last few posts seem to have been on nothing but bugs but I just love their variety and beauty.  Except of course for spiders who give me the heebie geebies!
This little fella was sat watching me weed the beech hedge.  He really wanted to have his photo taken and moved in for an extreme close-up!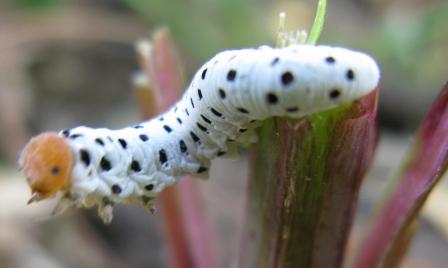 Unfortunately he got a little too close and fell off his perch.  I looked down for him and noticed that he had curled up and looked remarkably like a chicken dropping.  Aint nature great !!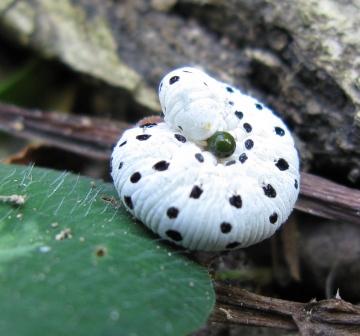 I have searched through my European bug book and searched extensively on the internet but cannot find this critter anywhere.  If anyone knows what he will turn into – I would be extremely interested.
* UPDATE *
Thanks to Chris from http://www.planetepassion.eu/ who suggested it might be a sawfly larvae. Found this on the web after about an hour searching  http://www.flickriver.com/photos/70626035@N00/3694047151/.
Wish I had kept it in a glass jam jar like a school kid – oh well.  Next quest is which sawfly is it?