This year has been one of the better ones for our old, gnarly quince tree.  We often ignore this tree and then are surprised with the wonderful delights it offers up to us.  In spring the beautiful pale pink flowers bear a strong perfume which wafts around the courtyard and catches you unawares.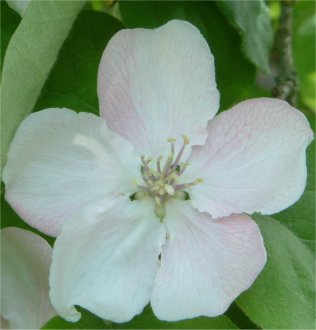 Then in late autumn, the last harvest to be made, is a bountiful supply of golden yellow fruits.  This year resulted in 28 kgs, not the best but still a good amount.
So the question is – "What to do with all these fruits?"
This year I have already made a bazzilion jars of various jams and we are still eating chutneys from 2006/7.   One of our successes over the years at Bellebouche has been the quince paste – a misnomer as it is closer in consistency to turkish delight.
These little fruity gems are perfect for xmas gifts and if the surly security guards at the airport don't confiscate them, then they will be handed out tout suite.
They take a while to make but fill the house with a wonderful fruity, floral aroma.  Basically, they are peeled, cored and chopped into cubes.  Put in a pan with a little water and cooked until soft.  Mashed and whizzed into a compote consistency.  Sugar is added and then they are cooked, slowly, for a long time – a very long time – until the mixture turns from an apple colour to an autumnal leaf colour.
You can see in the photo the pan on the right is much lighter as the mixture spits and spatters like molten lava until it thickens.  You can speed up the process of the cooking by turning up the heat, but it then needs constant stirring so as not to burn on the bottom of the pan.
Once the mixture is so thick that you can make a ball in the bottom of the pan with it, spread it out evenly onto a tray, coated with parchment paper.  Leave to dry further – again if you want to speed up the process – put the tray into an airing cupboard or hot oven which has just been switched off after use.
When the mixture is ready for cutting it should be firm and easily chopped into cubes.  You can then either coat in icing sugar or leave as is.
28 kgs will make an awful lot of quince bon bons so I have made a few variations on the above.  Apple and quince, blackcurrant and quince (which produced an amazing coloured sweet) and one with a secret ingredient which you will have to guess by tasting!