This weekend (2nd-5th June) is turning out to be one of our favourite weekends of the year. In 2006 the Rendez-vous aux jardins weekend sees thousands of gardens opened up across France for public viewing. Here in Poitou-Charentes we have the opportunity to visit plenty of local private gardens that are only open to the public for these few days – it's been really good to zip about through the countryside seeing just what other people are up to – quite an inspiration.
We've seen loads of new gardens that we'd not been to before (there are 110 open this weekend) and with travel it's only really possible to zip around three or four a day. This means there'll be plenty to see in years to come!
Our highlights of the weekend and some snaps are after the more click

Melle, Arboretum and Chemin de la découverte
Not strictly a garden as the whole town is peppered with a discovery walk and all manner of interesting things to see. We'd previously visited the silver mines in Melle just a month ago, we were back in time to take a stroll around the arboretum (over a 1000 tree species), enjoy a picnic and pass through the town. We (triumphantly!) managed to save a rare oak seedling from a Japanese Emperor Oak that had germinated in the grass alongside one of the arboretum trees, pretty lucky that as it was only a matter of time before it was municipally mowed!
Local british artist Keith Dunkley and his wife Francine who open their private garden at their superbly restored chateaux near Lezay. They also offered a plant-swap so in exchange for a plant that we'd propagated we picked up a sturdy looking wormwood, more romantically Absynthe which is quite common in gardens here. It was also great to see an old house sympathetically restored and Keith took the time to speak with us at length about his resoration works. Excellent stuff.
Abbey at Celles-sur-Belle.
We stumbled upon a full-on French wedding underway at the abbey, nipped round the back for a quick tour of the palatial gardens, took a few snaps and listened to the jazz musicians getting fired up for the drinks reception once the guests flooded out of the abbey.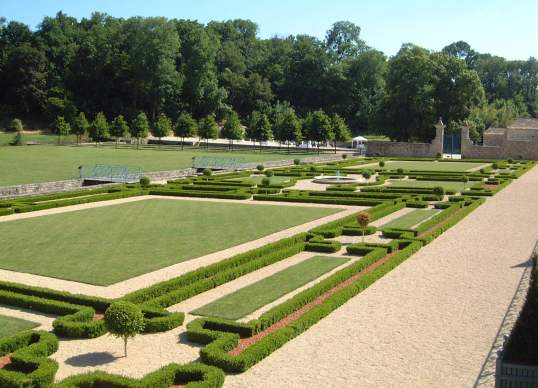 It would have only been polite to stick around for a glass of champers and mingle but we had to move on… a pressing appointment at the bee-store awaited!
As an aside, all our orchard cherries are ready (more than we can hope to eat!) and the weather has been a very pleasant 25-26 degrees. It's a brilliant time of year. Get your bookings in for the first weekend in June 2007!
Adrian