The sixth annual pumpkin competition now draws to a close – who was the winner ?   …
Last year the dear Monsieur Robin was the outstanding winner with his 60kg whopper!
Do we stand any chance of winning this year with our 35kg beauties?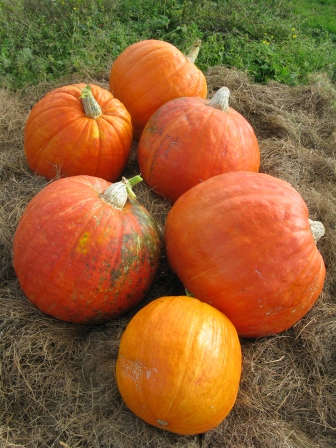 The gauntlet was thrown down again.  So we all trundled off to Mr Robin's home for the great weigh in.
Chez Pope fell at the last hurdle when their prize pumpkin was decimated by a local herd of cattle who sneakily broke into their paddock and destroyed their crop.  It's all looking good for Bellebouche …
Unlike last year there is no sign of any pumpkins on Mr Robin's potager – what – where are they?  We are told they were put in the barn to protect them from the frost.
Opening the barn door and we are met with a herd of pumpkins …
Bugger!  The barn is full of 40kg+ monsters!
With slight trepidation we have the final weigh-in …
Our largest pumpkin at Bellebouche came in at a (not to be sniffed at) 35kg – Mr Robin topped us with a 42kg fruit.  Close but no cigar!
Champagne corks were popped and the local chasse arrived to celebrate the victory.
Now, what to do with our fruit?  Well it is Halloween!
A bowl of choccies await the trick or treaters.  As we are so remote, these treats are really for us.  Happy Halloween!