During the 12 days from 5th – 16th July the largest games festival in Europe is held on all the main pedestrianised streets in Parthenay. 3,000 games to play for free, are set up along the streets and squares, where both young and old play together.
In the various town squares, different games villages are set up. Wooden, simulation, multi-media, circus, children's and many more villages are full of people laughing and playing games. A sand volley ball court and table football machines are set up around the band stand in the Place de Drapeau with a dozen or more marquees full of board games and other games of skill for all to play.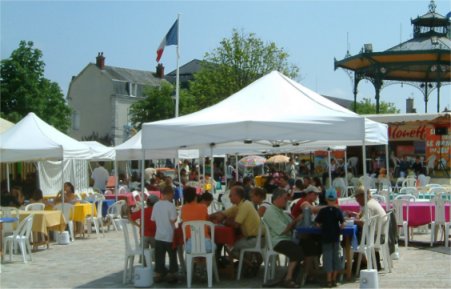 There are magicians, clowns and stilt walkers entertaining everyone and areas where children (and adults) can have their faces painted or have a portrait done.During my parents stay we visited the festival on a number of occasions and tried a number of games. After a couple of goes of a popular game called Blokus, both me and Adrian were hooked. There were a few games that other kids were playing that seemed really good fun, one involved squeezing a squeeky burger, another involved the players wearing hats that showed their opponents the face of a card and another involved smacking cards with a rubber suckered hammer in a game that looked similar to snap.
We visited the circus village and watched the children trying to balance on either a ball, beam or unicycle and others juggling or balancing plates on sticks. As we walked along the streets we stopped often to watch games being played by all ages and had a go at a few as well. In the wooden toys village we all tried a game of skill which involved trying to lift a wooden ball up a wall full of holes using only a wooden sling and 2 ropes. Not the best game to try after a few glasses of beer! Another game involved rolling a wooden cube which has coloured spots on it. Depending on the colour depended on where you could move on a football pitch. We all played a new game that had just been developed that tested your power of observation. Again not the best game to try after a few glasses of liquid refreshment!
Another game that both me and Adrian liked was in the wooden toys village – the game called Abalone, was made from some beautiful pieces of wood and was a game of skill. After playing it wrongly the first time we had a friendly french interpreter help us and we then played it correctly a few more times.
I would recommend this festival to anyone, even if you don't enjoy playing games yourself, it is such good fun watching the faces of others as they participate in either the latest craze or an old favourite. We will definately be going again next year.