A much earned break and visit to our favourite local produce market at Thouars and we picked up something tasty for the table…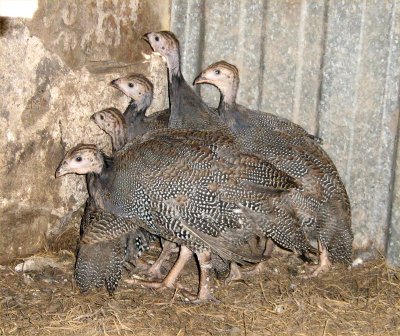 A little flock of Guinea Fowl or Pintade… and a bargain at just €2.70 each. And that's them, nervously huddled together on arrival. I suspect they're only a couple of months old… certainly not much meat on them yet! We have a long heritage with these birds and fell in love with them when we lived in South Africa – noisily roosting in a Jacaranda in the garden or scurrying along in the veld when we were out and about – are fascinating things. Quite beautiful feathers and uniquely tasty.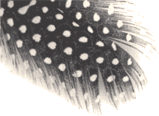 So, not only are they attractive, good on the table but they're also going to play a useful role in keeping down the numbers of bugs in the garden. We're letting them free-range through the garden and after a couple of nervous days they seem to be settling in reasonably well.
I've mentioned in the past that keeping on top of Colorado beetle is a nigh on impossible task.. in fact we've spent an inordinate amount of time down in the veg plot picking off by hand the little bugs and harvesting any egg-bound leaves…. and you just need to miss one and that's it.. plant gone. No more spuds, no more aubergines.
This year I hope that the Guinea Fowl will do the trick and by the time they've fattened up on grubs and bugs will give us something tasty for the autumn table…. not only a good roast but also the veg that they've stood guardian over all summer long.