On arriving in France with just a field of weeds for a garden, we were at first, a little enthusiastic with regards to purchasing plants. Whenever a supermarket or DIY store had a sale on we would go and check out the garden section first. This was not a bad thing – as we have bought some outstanding specimens.
A couple of the plants we bought have since died – 2 mimosa trees which we planted in our only frost pocket. But …the majority are thriving in our brilliant soil.
Our 2 olive trees in the first year put on loads of new growth, last year had their first flowers and this year it looks like we might even get some fruit! They are currently in huge plastic pots but eventually I hope to have them in large teracotta pots, placed in my Italian stone garden.
The 2 parasol pines have also put on a lot of new growth. They too are in huge plastic pots but will eventually be planted in the garden when we've decided where to put them.
The 2 cycads have kept all their leaves through the winters and have become quite bushy. They may eventually end up in the stone garden or in the courtyard – I'm still deciding on this.
The 2 oleanders are looking a little tired, they need to be either repotted or planted where I can protect them through the winter. They will need repotting soon.
Now to the outstanding contribution …..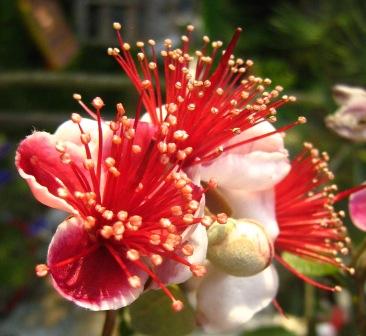 Our 2 pineapple guavas were bought as a "suck it and see" purchase.
They were labelled up with their latin name Feijoa Sellowiana and neither of us knew what they were or whether they would survive through the cold winters here.
We just liked the look of them as they had been grown as tall standard trees and had dark green leaves with a silver underside.
After we purchased them and brought them home I looked up the latin name and found out that they were pineapple guavas.
They have beautiful flowers in summer and small green edible fruit in the autumn. After more research – the petals are edible, with a slightly sweet and interesting delicate flavour and can be added to salads.
They are drought resistant and can tolerate temperatures down to -10. Bonus.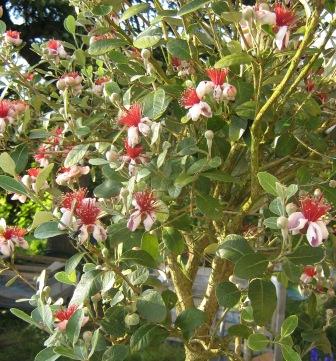 Their first year with us and we had about 4 or 5 tiny fruits. Which tasted just like pineapple.
Last year we had a few more flowers but the same amount of fruit.
Well this year – both the trees are bursting with beautiful red and cream flowers. Hopefully, come autumn, we will have a bountiful harvest!!
We still keep a look out for more bargain plants and have added a fiery red japanese maple, a ginkgo biloba and a cluster of different grasses to our collection.