Few finer breakfasts exist than a bit of smoked salmon and scrambled eggs. We've got the home raised eggs sorted… so time for some smoked salmon to accompany!

First, take your salmon.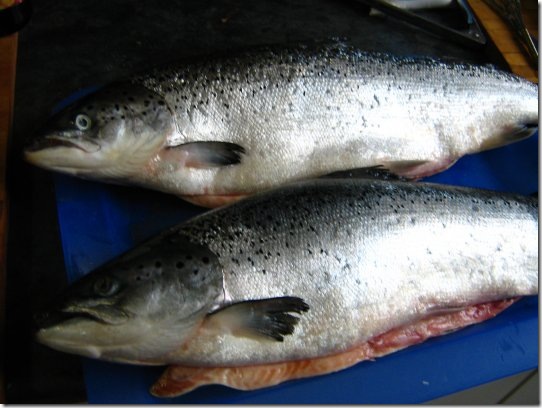 Scale, clean, fillet. Keep the 'shoulder' gill bone intact, you'll need that for hanging the fish. Then brine for 3 hours. I made up a brine of 550g salt in 3.5 litres of water. Rinse, pat dry. Skewer and then hang to dry in a cool room for 24 hrs. Keep cats at bay!
Now, with 24 hours to kill the DIY can commence. A day is just enough time to knock up a Home Smoker!
This is the fun bit.
Back when we bought the place we found a handful of ancient old oak barriques knocking around in the Atelier or workshops adjacent to the bread oven. A bit of a dumping ground for the flotsam and jetsam of the stuff that we discovered around the place but I always knew that one day I'd do something useful with one of the old wine barrels. Taking the top off this one revealed, rather spectacularly that it had been used for storing red wine.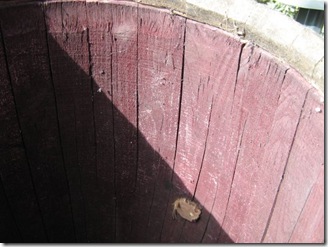 The wine having penetrated deep into the oak and giving it a lovely pink hue. I couldn't help wondering just how many times this barrel had been used over the years.
First necessary modification was to cut open a portal in the base of the barrel. I do have a jigsaw, somewhere. Honest.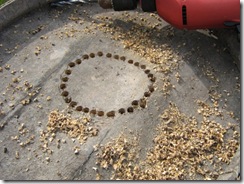 And then time for a matching aperture in the old table I'll use as the stand for the smoker.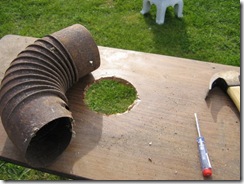 The elbow is passed up through the bottom hole in the table and then fitted into the bottom of the barrel and nailed in. I had to climb a ladder to take that snap!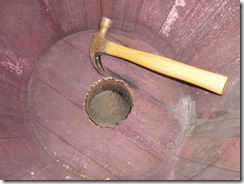 Next an old pan lid gets perforated to act as a smoke diffuser. It will sit slightly elevated on top of the inbound smoke pipe. This should help to cool the smoke slightly (important for cold smoking salmon and the like) and of course ensure a more even distribution of the smoke particles inside the chamber.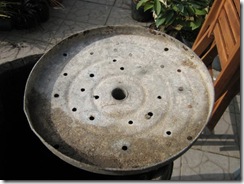 Fully assembled, a short section of flue pipe and a second elbow hooked up to my vintage 1929 poéle à  bois. That little fellow is a bit of an art deco star and picked up by Joan in a Brocante nearby for a measly €60. Bargain. I've made the rig portable of course so when it's not doing smoking duties I  plan to install it in a  workshop where I will spend out my old age carving  and turning wood! That's the plan anyway.
Doesn't look too bad! Come on baby, light my fire.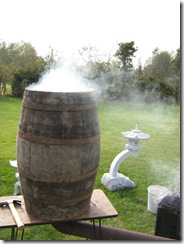 First test subject, some Garlic. With a little tweaking I can get it running cool (30 degrees c) with a steady flow of smoke. It did need some attention every hour or so but I think I'm on my way to solving that.. a seperate 'smoulder box' above the main fuel source should work out well. And we're all set. I was able to spend a bit of time learning how to control the very small firebox and not generate too much heat nor too little smoke. We've got oak coming out of our ears here so no shortage of fuel for the smoker. For my test smoke I used some chippings from a downed peach tree. Any fruit wood is supposed to be a good choice for smoking food.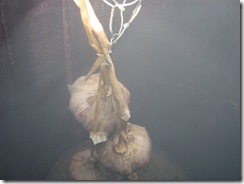 And that's it. The salmon needs to air dry for a day, then be smoked for… maybe a couple of days.. then left to settle/mature for at least another day… so next weekends brekkie should be outstanding.
More later.