Making the most of the Christmas downtime I turned my hand to a little carpentry, stone masonry and wildlife conservation. All in an afternoons work!
Long overdue for replacement I'd turned my attention to the windows on the first floor of the main house. I'd spent our first christmas here reglazing one of the frames and patching up the half rotted timber with some metal plates. This was only ever supposed to be a temporary patchup job and temporary it was… for three years!
I've previously installed other windows here and it's a fairly easy job. Only difficulty being the fact that modern windows are square, my ancient apertures are not. Modern windows are uniform in size, the ancient oak lintel and granite facings were all hand cut to an approximate specification a couple of centuries ago. My windows are undoubtedly CNC machine routed and made to production line standards… getting the two to marry up is the tricky part.
First step. Buy your windows. The local DIY mega barn sells them for very reasonable prices. Each one of the window units was €107. Three matching units for the front of the house should see us right.
Off to a bad start at the shop because for reasons that I'm not exactly clear upon the sizes advertised by these people are not quite the same as the units themselves. If you've got a bit of margin for error then that's fine but otherwise you're in trouble. Unable to trust the guy in the store, I had to go into their stock area and physically measure the unit I wanted. It was 1cm shorter, though he swore blind it was what I was looking for and on that basis – I thought I could make them fit!
Next step. Out with the old frames. Managed to get all three out cleanly in one go. The old frame was oak, weighed a ton and might well see out it's days in the garden as a few coldframes for bringing on some early spring veg.
Installing the new frame in each window was a challenge. I had to disassemble the top and bottom bars, remove the fixing bolts, countersink them and then put it all back together again.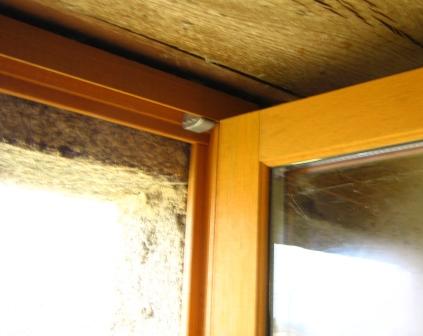 Intermediary step. Bat Rescue! Our grenier has on occasion been host to an assortment of birds, rodents, cats and assorted flotsam and jetsam of wildlife. I spotted one tiny leathery little bat crawling up behind one granite lintel and into a wallspace. He might well have made it through the old sizable gap in the frame but the new window would have trapped him in and sealed him up for good. So, with a little gentle coaxing he was encouraged into an impromptu bat-box and escorted to new digs on one of the barns! One bat saved!
Finishing the last frame as the sun set and that was it. Job done and not a bad afternoons work.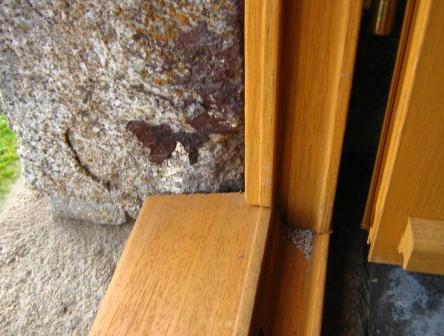 Now they just need a squirt of expanding foam sealant and an internal detail finishing and they'll be good for years to come. They came with a ten year guarantee but when I consider that the old ones are probably a good 80/90/100 years old then it's a moot point. I'll be in the ground before they need replacing again. Good job really as it'll be no joke trying to get them out again!