After lots of clearing up in the garden after winter and the debris from hedge laying, we had accumulated rather a large pile of stuff to burn. After a few days of dry weather and a perfect day with a light breeze, blowing away from the hamlet, the fire was lit with a little help from some dry hay.
I looked on a little worried as on either side of the fire were many potential disasters – weed suppressant covered bank, newly planted beech hedge, newly built compost bin.
WOOF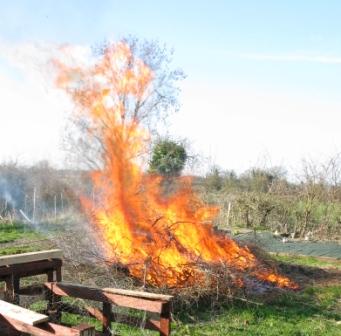 The flames flew up in the air, swirling in the wind, the heat was incredible. It was totally awesome! No smoke. It burnt the pile within minutes.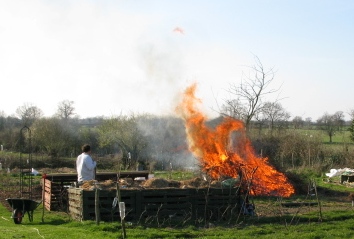 A quick removal of an old Jewson bag, full of bark mulch, which was dangerously close to the flames and the pile disappeared to a small heap of white ash.
There is something satisfying about having a good old bonfire. Now the mound has gone the potager can return back to providing a wonderul selection of tasty produce. The only question now is where will the next fire be?