… except when it was broke hacked. Very broke HACKED!
It's very much a case of the cobblers children having the worst shoes I'm afraid. Since we migrated the Bellebouche blog onto the WordPress blog engine in.. ohh… ahhh.. errmmmm… 2005 I've done very little maintenance and upgrading on it. Shameful situation really but in all honesty it's always just worked. 
So, at 18:09 on May 18th we were hacked. A miserable series of changes right the way through the system with an exploit that updated tons of the admin pages and also appears to have polluted the backend database that holds all of the actual content (the blog you see is dynamically generated from a number of different machines). Now, the point of this trojan horse? It was redirecting some referer pages from search engines through to another website that will have been earning referal/clickthrough monies from this. I'm not going to delve into the murky world of search engine optimisation and internet payola – that's not we're about here. Ironic though in that about 3% of my traffic comes from Google/Yahoo/MSN etc. and as we dont carry ads I don't earn revenue from it!
Anyway, we had a report a day later (thankyou John and Sue) that the blog was prompting for users to register to allow them to make comments… not something we've ever had as I'm always keen to receive the odd comment. I tweaked the parameter, mentally blamed Joan for having fat fingers and going clicking where she shouldn't and let it go… until this morning when I tried to update a draft post and fell into trouble.
So, fast forward through three hours of attempts to restore PHP scripts and manually cleaning rows from SQL database tables and it all was still broken. Time to upgrade the blog. The upgrade I've been putting off for 4 years… took about nine minutes. Like I said… Shameful situation!
It did prompt me to have a little looksee at our traffic…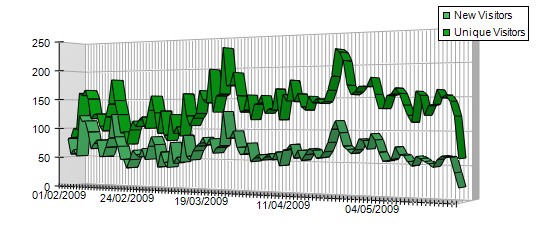 Coo. 10,000 visits a month, plenty of repeat visitors and we're averaging 149 unique vistors a day… and I'm a little lost for words at that.