Funny how these things creep up on you. We've never been actively conscious of being specific birdwatching fans it's just that… since we moved to France and started spending the majority of our time outdoors… you start to notice more and more of what's going on around you. Getting in touch with the pace of the seasons, working in the garden, growing fruit and veg, raising our own animals… etc. etc Before you know it… you're taking an active interest in the fauna and we've seen such a lot. Only when I wrote it down did I realise just how many species we'd seen in or around our own garden – it's quite remarkable. The tally slowly rising all the while when we spot something new. This page started out as a notepad list – I'll add more info as and when we see it, photographs where I can and a link to a blog entry if we see something particularly rare/unusual.
Wild Birds  spotted at Bellebouche
(English – French – Latin)
African Hoopoe – Huppe Fasciee – Upupa Epops

Barn Owl – Effraie des Clochers – Tyto Alba
Blackbird – Merle Noi – Turdus Merula
Black Redstart – Rougequeue Noir – Phoenicurus Ochruros
Blackcap – Fauvette a Tete Noire – Sylvia Atricapilla
Blue Tit  – Mesange Bleue – Parus Caeruleus

Buzzard – Buse Variable – Buteo Buteo


Carrion Crow – Corneille Noire – Corvus Corone
Cattle Egret – Héron Garde-Boufs – Bubulcus ibis
Chaffinch – Pinson des Arbes – Fringilla Coelebs
Chiff Chaff – Pouillot Veloce – Phylloscopus Collybita
Cirl Buntin – Bruant Zizi – Emberiza Cirius
Collared Dove – Tourterelle Turque – Streptopelia Decaocto
Cormorant – Grand Cormoran – Phalacrocorax Carbo
Crane – Grus Cendree – Grus Grus


Cuckoo – Coucou Gris – Cuculus Canorus
Dunnock – Accenteur Mouchet – Prunella Modularis
Eurasian Golden Oriole – Loriot d'Europe – Oriolus Oriolus
European Jay – Geai des Chenes – Garrulus Glandarius
Golden Plover – Pluvier Dore – Pluvialis Apricaria
Goldfinch – Chardonneret Elegant – Carduelis Carduelis

Great White Egret – Grande Aigrette – Casmerodius Albus

Great Tit – Mesange Charbonniere – Parus Major


Green Woodpecker – Pic Vert – Picus Viridis
Grey Heron – Heron Cendre – Ardea Cinerea


Grey Partridge – Perdrix Grise – Perdix Perdix
Grey Wagtail – Bergeronnette Printaniere – Motacilla Cinerea
Hen Harrier – Busard Saint-Martin – Circus Cyaneus
House Sparrow – Moineau Domestique – Passer Domesticus
Kestrel – Faucon Crecerelle – Falco Tinnunculus
Kingfisher – Martin-pecheur d'Europe – Alcedo Atthis
Lapwing – Vanneau Huppe – Vanellus Vanellus

Lesser Spotted Woodpecker – Pic Epeichette – Dendrocopus Minor
Little Owl – Cheveche d'Athena – Athene Noctua

Long Tail Tit – Mesange a Longue Queue – Aegithalos Caudatus
Magpie – Pie Bavarde – Pica Pica
Mallard – Canard Colvert – Anas Platyrhynchos
Moorhen – Gallinule Poule-d'Eau – Gallinula Chloropus
Muscovy Duck – Canard musqué – Cairina moschata
Nightingale – Rossignol Philomele – Luscinia Megarhynchos
Nuthatch – Sittelle Torchepot – Sitta Europaea
Pheasant – Faisan Commun – Phasianus Colchicus
Pied Wagtail – Bergeronnette Grise – Motacilla Alba
Red Kite – Milan Royal – Milvus Milvus
21/10/09. Sitting watching an episode of House whilst having a bowl of vegetable stew! Bird flew low overhead, circling  and eyeballing the chicks in the garden (5x in a day-cage, 5x adolescents free ranging the garden.) We quickly ushered the chicks into safe cover. Notable flayed flight feathers at the end of wing, large forked tail, lighter underneath and about the same size as a common buzzard. Exciting! Had a camera on hand but no chance to photograph the bird.
Red Legged Partridge – Perdrix Rouge – Alectoris Rufa
Robin – Rougegorge Familier – Erithacus Rubecula
Serin – Serin Cini – Serinus Serinus
Siskin – Tarin des Aulnes – Carduelis Spinus
Song Thrush – Grive Musicienne – TurdusPhilomelos
Spotted Flycatcher – Gobemouche Gris – Muscicapa Striata
Starling – Etourneau Sansonnet – Sturnus Vulgaris
Swallow – Hirondelle Rustique – Hirundo Rustica
Tawny Owl – Chouette Hulotte – Strix Aluco
Tree Creeper – Grimpereau des Bois – Certhia Familiaris
Tree Sparrow – Moineau Friquet – Passer Montanus
Turtle Dove – Tourterelle des Bois – Streptopelia Turtur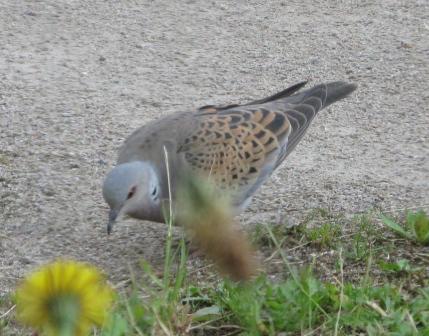 Wood Pigeon – Pigeon Ramier – Columba Palumbus
Wren – Troglodyte Mignon – Troglodytes Troglodytes
Yellow Wagtail – Bergeronnette Printaniere – Motacilla Flava
Suspected Sightings – Things we think we might have seen (but can't be certain)
Rook – Corbeau Freux – Corvus Frugilegus
Canadian Goose – Bernache du Canada – Branta Canadensis
Nightjar – Engoulevent d'Europe – Caprimulgus Europaeus
Domestic Birds spotted at Bellebouche
Chickens (lots)
Egyptian Goose
Mandarin Duck
Peacock
Toulouse Goose
Various bird sightings around France
Crested Tit – Mesange Huppee – Parus Cristatus
Dunlin – Becasseau Variable – Calidris Alpina
Great Crested Grebe – Grebe Huppe – Podiceps Cristatus
Osprey – Balbuzard Pecheur – Pandion Haliaetus
Quail – Caille des Bles – Coturnix Coturnix